Writing News
This week I revised my manuscript according to my friend Jill's (fabulous spouse to my husband's best friend) critique. She caught several embarrassing errors, including but not limited to, the use of "then" instead of "than", two places where I was still referring to the king as Assurari's father instead of his brother, a spot where happy tourists are gazing around blissfully instead of cowering in fear of the recent earthquake, and of course she marked every use of the work "liver" in the entire manuscript as unacceptable. Not sure what I'm going to do about that. I fixed everything else, but am irrationally attached to the historically accurate use of the word "liver" as opposed to the modern use of "heart" as the seat of human emotion. What to do? What to do? Aaaaaahhhhhhh…
Breaking News
The Great Hair Morph
During about a two week period my hair has undergone an incredible journey. Since I am convinced that one and all are enthralled with this unsolicited information, I will share this journey here today, free of charge, in a multi-media event.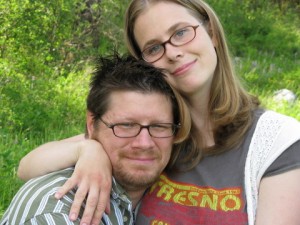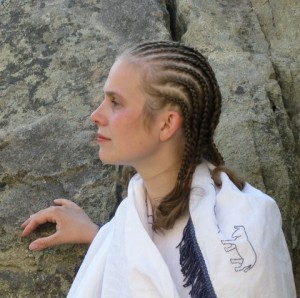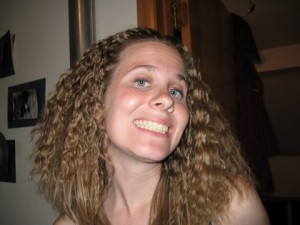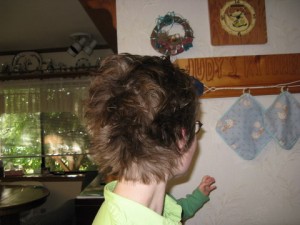 Fascinating isn't it!
Harrowing Parent Moment of the Week
I'm afraid that there are several.
First, my 4 ½ year old son was cutting with scissors and I called out to him from where I was nursing our 8-month-old to "Be careful". In reassuring tones, as though he were calming a flighty and unreasonable animal, my oldest boy replied "But if I cut myself, a new finger will grow back." I fear that we have read that book about the idiosyncrasies of lizards one two many times.
Second, when my 2 ½ year old boy poured his cup of water over the baby's head. Maybe he thought he was sharing.
And finally the winner this week. Dum dum dum dum… I had all three boys outside on Grandma's lawn, yes yes I know that this in itself is a recipe for mayhem and destruction, and foolish being that I was I turned away to water a plant! I hear screaming. I turn back. I throw my watering bucket into the air and sprint to my baby boy's rescue. For what do my horrified eyes behold? What indeed? It is my 2 ½ year old drenching the baby's head with a garden hose!
Fear not, all three of my "hurricanes" are currently sleeping in angel like bliss, free from horror and injury of every kind, but that is only because they have yet to awaken.