Kristen's Book Recommendations
Kristen's Book Recommendations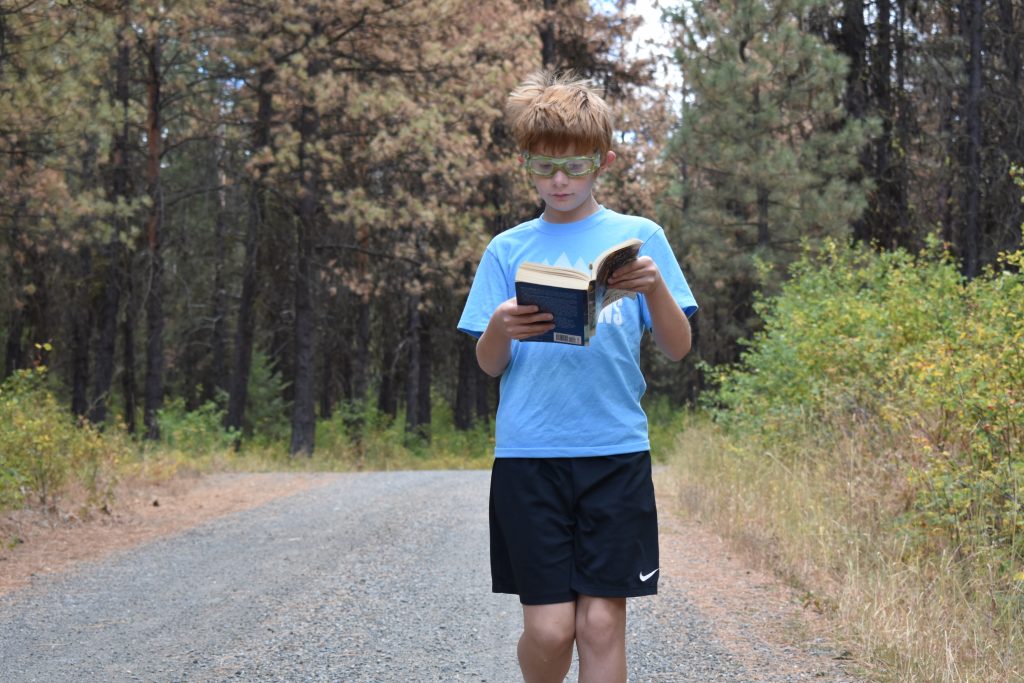 I may have lost my battle with the laundry and if you can't find me, go ahead and search beneath that pile of dishes. However, there is one accomplishment that I hold dear. I had the honor of teaching all three of our sons how to read before sending them off to Kindergarten. They have been reading ever since and over the years we have come across some truly awesome books. Below are a few of our favorites plus some new discoveries. Enjoy!
*  indicates a book published for the Christian market
Picture Books
*Shine Man–by
This story makes me cry every single time I read it. Set during the Great Depression, the tale follows a shoe shine man in the indifferent cold of a big city. A plucky orphan boy keeps popping up and nudging the bitter hobo toward gentleness and sacrifice. This book illustrates Jesus' transformative power so beautifully and stokes to life a deep inner longing to shine with His light before I die. Text Length and Complexity ****
Mars Needs Moms–by Berkeley Breathed
This book! It captures (ha ha!) that troublesome and beautiful relationship between mothers and their disgruntled kiddos like no other. Milo is fed up with his mom. She sucks the fun out of life and makes him eat veggies and do chores! He is done with her. But when Martians come to earth trying to trap a mother to take home with him, Milo has second thoughts. Be prepared to cry folks, this story is both hilarious and achingly lovely. Text Length and Complexity **
*Different Like Me–Xochitl Dixon, Illustrated by Bonnie Lui
This sweet story about a diverse cast of kids working together to transport a giant balloon is based on a poem the author wrote for her son years ago. A well-meaning adult told him that Jesus was color blind. He was horrified, did that mean Jesus didn't see him? This beautiful picture book is that mama's answer to her little boy. God made each of us different on purpose, for His glory, in His image. Text Length and Complexity **
*Psalm 23–Illustrated by Tim Ladwin
Oh, my! This book is so beautiful. Just glancing at the first five pages or so to refresh myself on the story made me tear up. This is Psalm 23 with gorgeous illustrations of an African American family living life in a big city. From the gentle care of Grandma, to rolling down a hill in the park, to setting a leaf afloat in a puddle, this story illustrated God's love for us as He provides, makes us lie down in green pastures, and leads us beside still waters. The beloved Psalm can seem far away when your valley of the shadow of death is a dark alley downtown, but Tim Ladwin's illustrations remind us that God is gently shepherding His children in every place they live. Text Length and Complexity ***
The Heroes of Isle Aux Morts–by Alice Walsh, Illustrated by Geoff Butler
A true story about a shipwreck in 1832 just off the coast of Isle aux Morts. Hairy Man, a Newfoundland dog, and his people work together to save the lives of 163 passengers from the ship Despatch. This story showcases real life people (and their dog) living in heroic ways when called upon in dangerous times. Text Length and Complexity ****
Cloudy With a Chance of Meatballs–by Judi Barrett, Illustrated by Ron Barrett
This delightful tall tale is just plain fun to read. With illustrations of giant meatballs, a man who gets trapped in an elbow macaroni, and the school covered in a giant pancake, this story feels very much like something a grandpa would tell his grandkids at bedtime. Text Length and Complexity ***
*The Angel of Mill Street–by Frances Ward Weller and Robert J Blake
A family legend, passed down to the author from her grandmother. This story is how Grandma answered the question: "Do you believe in Angels?" Back in Ireland, when Frances Ward Weller's grandma was a little girl, Uncle Ambrose was lost in a snowstorm coming home late on Christmas Eve. He needed a crutch to walk and the whole family fretted as the snow piled so high that even midnight mass was cancelled. The story of little Frances Rosalie is told with the text. The story of Uncle Ambrose, his difficult journey, and incredible rescue by a huge Newfoundland dog is told with the illustrations. The whole family wonders if they have seen an angel after inquiries around town reveal that no one has seen the large black dog before Ambrose's rescue or since. One of the most delightful things about this story is finding the dog hidden in the story as he tracks Uncle Ambrose's progress across town and finally steps out of the snowstorm to shepherd him home. Text Length and Complexity *****
Dogzilla–by Dav Pilkey
A parody of Godzilla using retouched photos of the author's Welsh Corgi and a handful of very patient pet mice, this book is simply hilarious! A family favorite and highly re-readable, Dogzilla's rampage is sure to delight. There is one mention of the theory of evolution, but whether the reader agrees with professor Scarlet O'Hairy on the origin of giant rampaging Corgis or not, they are sure to enjoy frolicsome lines such as: "The Big Cheese tried to catch up the the hot dog with all the relish he could muster."  Text Length and Complexity **
*Far From Home–by Sarah Parker Rubio, Illustrated by Fátima Anaya
The story of a frightened little boy who must leave his home and travel to a new place. On the long bus ride, an old woman calms his fears by telling him about another little boy 2,000 years ago who had to leave his home, too. When the boy grew up, He did amazing things like heal the sick and feed a huge crowd with just one person's lunch. The little boy on the bus asks if the story is true. The old lady tells him that it is one of "the truest stories in the world." This is such a lovely story of God's love in scary times. Text Length and Complexity **
Predators–by Bernard Stonehouse, Illustrated by John Francis
Packed with accurate animal behavior and amazing facts, this book about the more ferocious creatures in our world was a family favorite. Each spread shows an exciting illustration of a predator on the hunt and tells a life-and-death story of wild animals acquiring their food. Lions and tigers and bears are featured, but also other interesting predators like stoats, barn owls, bird-eating spiders, Komodo dragons, and leopard seals. Text Length and Complexity *****
*The White Pony: A Tale of Great Love— by Sandra Byrd, Illustrated by Sarah Waldron
In His Word, God often compares us to a beloved bride. Set in the Great Plains, this story of a Native brave seeking a bride is told with beautiful pictures and descriptive language. When others doubt the worth of the woman who won his heart with her kindness, the brave offers an extravagant bride price, including his most beloved pony. A beautiful portrait of God's great love for us, this book makes me tear up and reminds me that I am both valued and deeply loved. Text Length and Complexity ***
If You Were Born a Kitten–by Marion Dane Bauer, Illustrated by JoEllen McAllister Stammen
This gorgeous book about animal babies from seahorses to porcupines to hairy baby elephants is such a heartwarming read. It leads naturally to the question: "How was I born?" This beautiful book tells the reader with gentle accuracy that they, "… floated in a salty sea, waiting and waiting. Waiting for us who were waiting for you. 'We're ready,' we said. And you were ready, too. So you squeezed out, wailing." This story gives all the feels and is simply lovely. Text Length and Complexity ***
*God Gave Us Two–by Lisa Tawn Bergren, Illustrated by Laura J Bryant
This picture book holds a special place in my heart. I bought this to tell my husband that I was pregnant with our second son. Our oldest carried the book over to Daddy, climbed up in his lap, and they read it together giving Scruffy a pretty solid clue that we were expecting again. A beautiful look at becoming a big brother or sister, this picture book follows a polar bear cub as she looks forward to and worries about the birth of a new sibling. This charming story answers kids fears and points to the joy of being the oldest in the family. Text Length and Complexity **
Chapter Books
*The Dead Sea Squirrels Series–by Mike Nawrocki
2,000-year-old petrified squirrels rehydrate in the rain and then spend their time rampaging through a young boy's school and telling Bible stories? Yep, this series is absolutely hilarious. The funniest Christian books I've read in a long long time. The books run about 120 pages long, but the print is large and double-spaced and there are quite a few illustrations. Text Length and Complexity **
Andrew Lost–by J.C. Greenburg
This eighteen-book series is the best combo of action adventure and ease of reading I've ever found. Having taught three boys how to read, I know that those first simple chapter books can be boring for active youngsters with a short attention span. Not so with Andrew Lost! Packed full of interesting science and loads of fun, our sons tore through these books. They are the perfect next step after stories for beginning readers. My boys loved these! Text Length and Complexity **
*Tales of Buttercup Grove–by  Wendy Dunham
Four short books, each about sixty pages long, that show God's love through the eyes of the everyday adventures of a group of forest animals. These sweet stories are similar to the Frog and Toad books but with a faith element. Text Length and Complexity *
Attack of the Fluffy Bunnies–by Andrea Beaty
This book is absolutely hilarious and written in the same style as a cheesy black and white horror movie from the 1950's. Forced to go to summer camp, the Rockman twins are the only ones prepared for an attack of alien bunnies due to their many viewings of The Late Late Late Creepy Show for Insomniacs. Thus prepared for any occurrence, the twins rush to save the world from these unexpected attacking bunnies! My boys loved this book. Sarcastic, delightful, and so so funny! This one was a favorite of Brennan's. Text Length and Complexity ****
*The Secret of the Hidden Scrolls Series–by M.J. Thomas
While staying with their archeologist great uncle, Peter; Mary; and their dog Hank are transported by magic scrolls back to Bible times to live out stories from God's word as they occur. Fun adventures that move along at a fast clip and reveal truths from God's word along the way.
Charlotte's Web–by E.B. White
This first story of fighting for those you love and the powerful pain of loss is still gripping all these years later. It is about rising above expectations and becoming something more. It is about the fact that death comes eventually and if we have loved well, the pain will be fierce, but the heart is only stronger for having loved and will beat on. A truly beautiful story. Text Length and Complexity *****
*The Imagination Station Series–by Marianne Hering and Team
The imagination Station is a time traveling machine invented by John Wittaker from Focus on the Family's Adventures in Odyssey. Patrick and Beth travel back in time to learn the real story of our past and lessons about God, too. A fun series that engages readers and teaches interesting facts and good lessons.
The Borrowers–by Mary Norton
A family of tiny people living in an old manor house construct a life out of items pilfered from the big people. This story brings to life an amazing world of miniatures and all the legends of little people that have always thrilled us. The adventure kicks into high gear when one of the tiny people is spotted by a human boy and his terrifying ferret! Text Length and Complexity *****
The Mouse and the Motorcycle–by Beverly Cleary
A curious mouse is swept into adventure when a young boy and his toy motorcycle come to stay at the hotel where the mice live. One of Judah's favorite chapter books, this series can get tense as the mice worry about the horrors of mousetraps and in a later book, encounter a mean kid at camp. A delightful story full of friendship and fun. Text Length and Complexity *****
*Winnie The Early Years Series–by Dandi Daley Mackall
Eight-year-old Winnie works with her mom (who gentles horses instead of breaking them) on the family ranch. When the threat of losing the ranch and trouble with a prized thoroughbred have her running scared, Winnie learns that she does have something to offer and all things are possible with God. Sweet stories told with skill and lots of horsey fun! Text Length and Complexity ****
Frog and Toad Are Friends–by Arnold Lobel
Part early reader and part chapter book, these delightful stories of amphibian friends are the perfect way to jump into amazing world of story once you've just gained your beginning reader skills. Real plots, real adventures, but easy reading. These books are fabulous! Text Length and Complexity *
Winnie the Pooh--by A.A. Milne
This classic still delights with whimsical descriptions of Pooh Bear and his friends as they populate Christopher Robin's imaginative world. Text Length and Complexity *****
Middle Grade Novels
*Bark of the Bog Owl (Book #1)–by Jonathan Rogers
A medieval retelling of the story of David and Goliath in a setting that is an awful lot like a Georgia swamp. Beautiful descriptive language and lots of action in a strange and fascinating land.
The Candy Shop War (Book #1)–by Brandon Mull
Don't take candy from strangers! But what if that stranger is an adorable old lady who says that you are brilliant and special and if you will just help her out this once, she has candy that gives you powers? After ignoring their good sense and taking the offered sweets, can a group of friends save the day when all of the adults in town are too sleepy to help (yep, they ate mind-numbing fudge) and a rogue candy maker is on the rampage? My boys adored this book, such great fun!
*Operation Sisterhood–Olugbemisola Rhuday-Perkovich
Bo is an only child who loves to bake, but when they move to Harlem and her mother remarries, she gets a whole lot more family than she expected. Can a girl who is used to peace and quiet with her mom find her place with three loud and rowdy sisters, pet chickens, smuggled stray animals, a giant dog, and the kind of homeschooling insanity that threatens to send her organized life into a fatal tailspin? This book was a delight. It was so fun to be whisked away to the city into a different world from the one I know. The story left me salivating for the delicious cultural foods that Bo loves and rejoicing in the differences and similarities that make God's children all unique and wonderful.
Winterborne Home for Vengeance and Valor (Book #1)–by Ally Carter
A young orphan finds herself in the middle of a mystery as she moves from foster care to a creaky old mansion. Is the legend about a caped vigilante true? Where is the missing heir to the family fortune? Will her science-loving roommate blow them all to smithereens? This story is a delightful romp in every way. So fabulous!
*Winnie the Horse Gentler Series–by Dandi Daley Mackall
There is nothing like a horse book. I learned to love reading stretched out under my grandparents' grape arbor with a Black Stallion book under my nose. I wish this series had been around when I was a girl. Winnie, the twelve-year-old heroine can gentle any horse, if only her dad would stay put long enough for her to do more than just work at a stable. Then she meets her dream horse, only, the mare is wild from neglect. As Winnie teaches the skittish horse about gentleness and trust, she learns how to trust God, too. 
Coop Knows the Scoop–by Taryn Souders
A cozy mystery full of southern charm. When a skeleton is unearthed beneath the slide at the local playground, Coop must team up with his friends to solve his grandmother's murder and exonerate his grandfather from suspicion. This book has just the right balance of spookiness and fun as the child sleuths try to solve a murder in a small town setting full of quirky characters. Brennan really like this one. This author is a Christian who writes for the general market. 
*On The Edge Of The Dark Sea Of Darkness (The Wingfeather Saga Book #1)–by Andrew Peterson
Rollicking Christian fantasy that is both hilarious and deeply moving. Three siblings must discover their heritage, defeat the terrible Fangs of Dang, evade toothy cows, and embark on a quest to save their world in this delightful tale that had us both laughing and crying in turn. All three boys really enjoyed this series.
Treasure Island–by Robert Louis Stevenson
If you thought classics were boring, you need to stop and read Treasure Island. This book has it all. Fascinating characters, drama, danger, a cool plot, pirates, and the pacing is fast and fun. We listened to this audio book with our three boys when they were young and they all loved it.
*Jack vs. The Tornado (Tree Street Kids #1)—by Amanda Cleary Eastep—2021
Four kids who all live on streets that are named after trees battle tornadoes; help a neighbor in need; and wrestle with lessons about God. This is such a delightful series! I absolutely love the author's humor as she zips the reader into Jack's adventures. He struggles with leaving the best fort in the world for a weird new neighborhood in town. Will he be able to make friends with the kid who is always reading, the one constantly on a walkie talkie, and repair a dilapidated old house to enact his "secret plan" to earn enough money to save his grandparent's farm?
Alcatraz vs. The Evil Librarians (Book #1)–by Brandon Sanderson
A young man with the magical power of breaking things must team up with the grandfather he never knew and an angry girl with a giant sword in her purse to battle the evil librarians of the hush lands! Just as hilarious as it sounds, this story is perfect if you ever wanted to see an author make fun of himself, battle a monster made from old romance novels, or fly in a ship shaped like a penguin. Super fun and a favorite of Brennan's!
*Arcade and the Triple T Token (The Coin Slot Chronicles Book #1)–by Rashad Jennings
This fun adventure follows a brother and sister team who are new to New York city. A mysterious token necklace takes them on improbable adventure after adventure as Arcade and his new friends try to avoid a pair of bullies and discover their gifts for the upcoming career fair.
Hank the Cowdog Series–by John R. Erickson
Humor, adventure, and a good dog story. What more could you want? Hank the Cowdog engages readers with his outlandish humor as he defends his ranch from wildfires, a rogue bobcat, invading coyotes, and his own wild imagination. This is a general market title, although the author is a Christian and there are occasional mentions of church. Once or twice, there is a ghost story or a fortune-telling owl (Madame Moonshine) but even then the monsters usually turn out to be armadillos and vacuum machines! Good old fashioned fun with a crazy dog in charge and plenty of room for hilarious mishaps. All three boys enjoyed these. The audiobooks are especailly good with all the banjo songs! The books run about 120 pages long single-spaced. 
*Tinker (Book #1)— by Jill Williamson and her son Luke
Life for Tinker is getting worse. He lost his father, his robot dog is broken, and getting into the Invention Institute where his dad used to teach seems impossible. Unless he can keep his uncle and cousins from thwarting his efforts and win the Recycle Race and a full scholarship! A Cinderella retelling for boys and robot-loving girls everywhere? Yes, please!!!
A Single Shard–by Linda Sue Park
Set in 12th century Korea, this gorgeous story follows a young boy who will do anything to impress the master potter in his village. Therefore he embarks on an epic journey to take an example of the artist's work across the country to gain a royal commission. But will he persist when all he has to present at the royal court is a single celadon shard? This author is so skilled at her craft. She has taken the passion of a young boy for a craft and created a heroic journey out of his desire to create art of his own. A beautiful tale. 
*My Name is River (Book #1)–by Wendy Dunham
Uprooted from her home and waiting for her parents to come back for her, River follows her grandmother to the very worst town in the whole world. Her friendship with an unusual boy leads her toward forgiveness and the love of Jesus. Set in the 1980s, this story gives a painful look at kids in a hard spot whose parents are less than ideal. But there is hope and you will cheer her on as River heals, grows stronger, and learns to stand tall.
How to Train Your Dragon (Book #1)– by Cressida Cowell
This whole series was an absolute family favorite! A must in a three-boy household. I read every book aloud and we laughed and cried as Hiccup and his snotty little dragon Toothless took the Viking world by storm. I am amazed at this author's ability to move the reader with both hilarity and (especially in later books) thought-provoking story lines and even tragedy. Warning: the Viking children other than Hiccup and Fishlegs are very mean to each other. They take classes like "Advanced Rudery" but Hiccup slowly leads them in another way. Also, there is a character named Big Boobied Bertha and I had to secure promises from the boys that they would never ever call anyone by this name no matter how apt it might seem. If you don't mind a bit of rough and rowdy behavior, this is a fabulous series with themes of honor and overcoming.
*Bash and the Pirate Pig (Book #1)–by Burton W. Cole
Thrust into farm living against his will, Raymond has to spend his summer trying to keep up with his insane cousin Bash and one dangerous scheme after another. Will using captured flies to leap off the barn, sailing a pirate ship with a pig, and being dragged through the local fair by an escaped cow result in an untimely death or an unexpected encounter with Jesus … or both? Only time will tell if Raymond can survive the summer in one piece.
My Side of the Mountain (Book #1)–by Jean Craighead George
This was the first literary novel Theo read and he adored it. Both of his brothers also fell in love and all of them read the whole series. Beautifully written, a quiet adventure with the powerful draw of wanting to run away from the city and find the forest. There are tons of interesting survival skills employed as the young hero lives on his own in the woods. This story is powerfully beautiful.
*Haunted Waters (Red Rock Mysteries Book#1)—by Jerry B. Jenkins and Chris Fabry
When twins Bryce and Ashley stumble upon evidence of a crime, the thieves will stop at nothing to get it back. With their little brother and step dad in danger too, can they pull together as a family, rely on God, and face this danger? Or will the bullies and museum robbers win the day?
Theodore Boone: Kid Lawyer (Book #1)–by John Grisham
A thirteen-year-old kid who knows every lawyer and every judge in town dreams of becoming a lawyer himself one day. But when he is thrown into the middle of a chilling murder case because only he knows the truth, Theodore Boone might have bitten off more than he can chew. Can a kid help solve the ultimate crime, even though he hasn't gotten the chance to be fully trained? Read and find out. This author is a Christian who writes for the general market.
*The Dragon and the Stone (The Dream Keeper Saga Book #1)–by Kathryn Butler
A delightful fantasy adventure with a likable heroine (even though she has old banana in her hair) who is whisked into a world where our dreams go to live out the rest of their lives once we imagine them into being. However, danger and darkness is not unique to our world and Lily must battle evil shapeshifters, learn to turn her epic imagination powers into a tool for good, rescue her father, and risk trusting in the One who made her who she is.
Wish–by Barbara O'Connor
This book is published in the general market, but it could easily have come from a Christian publisher. A young girl, yanked out of her home to go live with relatives she's never met. A scrappy stray dog who doesn't understand what love is. Sweet southern food, friendship, and hospitality. Drama at church during Bible competitions and making a wish for something she's hoped so hard for, every single day for over a year. This book made me laugh and cry both. It was just so skillfully written and full of heart. This author is a master of her craft.
Dead Possums Are Fair Game–Taryn Souders
Written for the general market by a Christian author, this fun book about the horrors of the fifth grade math fair will delight math lovers and math-phobes alike! Can poor Ella keep her life nice and organized while facing the disruptions of messy roommates, a looming math fair, and a dead possum?
Misty of Chincoteague (Book #1)–by Marguerite Henry
A childhood favorite, this amazing children's novel has its roots in a true story. Legend tells that Arabian horses swam to the island of Assateague during a shipwreck. However they got there, the horses became stunted but hardy after surviving on seagrass and saltwater for hundreds of years. Three of the wild ponies from the book were based on domesticated Chincoteague ponies: Misty, The Phantom, and The Pied Piper. The pony round-up still happens in Virginia every July. Saltwater Cowboys round up the ponies and swim them from Assateague island to Chincoteague. This novel is a delightful blend of real life adventures and a beautiful fictional tale.
How to Almost Ruin Your Summer–Taryn Souders
Chloe starts her summer looking toward a terrible fate, riding to her first day of middle school on a "baby bike" that's bright pink with horrifyingly childish decorations. But before she can earn enough money for the bike of her dreams, her folks ship her off to career camp! She must face a rampaging goat, an unfriendly bunk mate, and the spider that just won't die all while attempting to gain the cupcake decorating skills that will bring in the cash she needs to make her bike-buying dreams come true! Once again, this talented Christian author pens a delightful story for the general market. So fun!
Hatchet–by Gary Paulsen
There is something special about survival books. A young boy is forced to live on his own in the wilds of Alaska when he pilot has a heart attack and their bush plane crashes. The daily adventure of mere survival and the quiet and power of the wilderness provide a formidable opponent in this boy against nature story.
The League of Beastly Dreadfuls (Book #1)–by Holly Grant
Don't get into a strange car with little old ladies who demand that you take just one lick of a suspicious mint from the bottom of their purses! But what if your parents have just perished in a rogue vacuuming accident and those old ladies say they are now your legal guardians? Even if they live in an authentic Victorian insane asylum you're stuck, right? Find out the answer in this hilarious mockery of the gothic mystery genre. Warning: there is a bit of talk about tragic flatulence, possibly some magic, and some very creepy taxidermy in this rollicking tale. The boys laughed so much when I read them this series.
Where the Mountain Meets the Moon (Book #1)–by Grace Lin
A fantasy adventure inspired by Chinese Folklore, this gorgeous book is half picture book and half middle grade novel. Lovely writing draws us into the adventure as a shy little girl and the neighbor boy must rescue her grandmother from the emperor. The tale travels through history, myth, and legend as they cross the country on an epic quest. The illustrations are so fabulous and work with the lyrical text to form a true masterpiece. Brennan loved this series.
Gregor The Overlander (Book #1)–by Suzanne Collins
She is known for The Hunger Games, but I love her urban retelling of Alice in Wonderland best. A boy sees his little sister fall through a weird vent in their apartment building and plunges after, intent on rescuing her. They land in a war-torn land of magic and mayhem with flying bats, sentient cockroaches, and more adventure then they can possibly handle. It amazes me how the author still handles themes of war but for a child audience. This was Theo's favorite middle grade series of all time. It will make you both weep and cheer out loud. 
A Long Walk to Water–by Linda Sue Park
Based on a true story, this amazing book follows two eleven-year-olds in the Sudan, a girl from 2008 and a boy from 1985. Their stories of adventure and survival against terrible odds intersect beautifully in the end. Our boys read this for a school assignment and I'm so glad they did. This book paints a picture of incredible hardship as well as the fierce power of hope in the human heart. 
*The Lion, The Witch, and The Wardrobe (Book #1)–by C.S. Lewis
This classic fantasy draws the reader into another world full of mythical creatures and magic and yet somehow also paints a beautiful picture of Christ's sacrifice for us. Just beautiful.
The Ranger's Apprentice Series–by John Flanagan
A young man longs to be a knight but is refused entry into battle school. Instead, he is apprenticed to the mysterious ranger who is always skulking around the palace. What will his training entail? Can his bully become a friend? Can the small kid become the hero? Will training as a king's ranger ever compare to his dreams of knighthood? I love how this series shows young people growing into heroes, whether it is learning not to bully, to accept their natural talents, or to overcome everything from Barbarian hordes to addictive substances. There are three or four swear words per book, but the characters are honorable and worthy of respect. I read every book in this series out loud to the boys and they loved them all!
The Hobbit —by JRR Tolkien
The story of a comfortable hobbit forced into adventure by a very rude houseguest. Travel with Bilbo as he becomes an expert burglar, battles dragons, and discovers that sometimes it's not the mighty ones in the group who have to save the day.
Redwall (Book #1)–by Brian Jacques
This whole series if vividly drawn and full of adventure. Swashbuckling forest animals battle evil (usually rats and stoats and foxes) in glorious adventures full of heroism and valor. There is the occasional swear word uttered by an evil rat and some sad moments, but the animal heroes are honorable and worthy of respect as they fight to save forest and abbey from harm. This series is one of Judah's absolute favorites.
Young Adult Novels
*Fawkes–by Nadine Brandes
Christian YA at it's finest, Fawkes is fast-paced, beautifully written, and draws spiritual truth from the most amazing places. Fawkes is half historical fiction and half fantasy, telling the story of The Gunpowder Plot through the eyes of Thomas Fawkes, son of the infamous rebel. Magic systems mimic Catholic and Protestant faith and set the young hero on a quest to prove himself in a culture where you are nothing without a father who will pass on his magic through the gift of a mask. When the famous Guy Fawkes refuses him, can Thomas prove his worth and get his mask without condemning himself in the process? This is a favorite of Brennan's.
The Rithmatist–Brandon Sanderson
Post-apocalyptic gear-punk chalk magic? Whatever this book is, it's really fun. Rithmatists have the power to infuse two-dimensional chalk drawings with life so that humanity has something with which to battle the wild chalklings that keep attacking the American Islands. The son of a lowly chalk maker, Joel can only watch as the real students immerse themselves in the craft he longs to learn. But when students start to disappear, he and his friend Melody are called upon to help solve a mystery that will change their world forever. Judah loved this book. Come to think of it, so did his brothers.
*The Crescent Stone–by Matt Mikalatos
Madelyn is dying from a lung disease and Jason saunters through life with a snarky humor that hides his pain. When they get to chance to walk into another world where adventure and healing await, they do. The cost of their fairytale is incredible, but who exactly will be forced to pay it? One of my favorite Christian fantasy novels, this story fills your heart and makes you think. A compelling tale. Theo loved this book.
The Assassination of Bangwain Spurge–by M.T. Anderson and Eugene Yelchin
This is a fascinating general market YA fantasy. An elf is shot through the sky in a barrel to become an ambassador to the goblins, but all is not as it seems. The words tell a different story from the illustrations and the author and illustrator touch on stories of good and evil told by different sides in a conflict. Sounds a bit heavy? What it is, is hilarious! The creators have managed to be both thought-provoking and incredibly humorous all at once, which is exactly how I like my YA. 
*Pudge and Prejudice–by A.K. Pittman
I adored this book! This one gives all the feels, a swoon-worthy romance set in the 80s, all those cringe-worthy awkward moments from high school, plus a wink at the best romance of all time! What's not to love? Fabulously written Christian YA always thrills me, but seeing Mr. Darcy and Lizzy reimagined totally stole my heart. So so fun!
I'd Tell You That I Love You But Then I'd Have To Kill You–by Ally Carter
A boarding school for girl spies? Yes, please! Cammie is prepared for toxic chemicals in science class, strange disguises, speaking a different language every day at lunch, and learning how to kill with an uncooked spaghetti noodle. What she is not prepared for, a smile from a normal boy. If she and her friends steal his trash and bug his phone, it should be perfectly safe to then go on a date, right? This series is both hilarious and loads of good clean fun. No sex or swearing, but there might be a bit of swooning over cute boys and several explosions. Both Theo and Brennan enjoyed these.
Skyward–Brandon Sanderson
Driven to near extinction, humanity is trapped on a planet that is regularly bombarded by alien fighters. Spensa longs to become one of the fighter pilots who fight them, but her father's betrayal prevents her. Can she prove herself and get into flight school or is the discovery of a strange, outlawed ship her only hope of seeing the stars? My sons all loved this story. We are pretty sure that Theo will be marrying a fierce girl warrior just like Spensa. I enjoyed the flip on the usual weak character who becomes strong. Spensa is a strong and somewhat ferocious character who slowly grows in both skill and compassion. Like Top Gun with Vikings in space … only better! 
Lord of the Rings--J.R.R. Tolkien
An epic fantasy trilogy that has inspired so many others to create mythical worlds and journeys. Walk with both powerful wizards and simple country folk as they seek to destroy a gripping evil which is just as likely to corrupt the heroes as to empower the villains. 
*The Delusion–by Laura Gallier
A Christian horror novel? Yes, and it's a good one. Chilling and well-written, this book started with Theo and made it's way, boy by boy, through our little public junior high school. Theo's friends loved it. Not preachy, this story is full of goose-bump-worthy scenes showing monsters that only the teenage hero can see, feeding off of the despair of his friends and family. When multiple suicides rock their small town school, can a young atheist accept that he is not insane and save the people he loves from the horde of creatures only he can see? This book does show teens partying and making ill-advised decisions, but it takes a sober look at the dangers of doing so as well as the perils of walking a path of self-indulgence and defiance from God. 
Anne of Green Gables–L.M. Montgomery
This story of a plucky orphan girl who talks her way into the lives and hearts of a small town in Canada is over 100 years old and has lost none of its charm. Gorgeous language, redemptive character growth, laugh-out-loud humor, and moments that bring you to tears. A true classic.
*Failstate–John W. Otte
A Christian superhero story with humor and heart! My sons adored this book and have reread it several times and demanded to know why the author hasn't written more than three books and a couple of novellas in this universe. The author captures the stress of being a teen beautifully and with the added angst of being a competitor on a reality TV show in order to become a licensed hero, the story is full of tension and fun. The hero must battle his perfect brother, solve a murder, and prove himself while all the city watches. Can he win the day?
Princess Academy–Shannon Hale
Rugged mountain folk clash with royalty when the priests determine that the prince will marry a girl from a remote quarry town. A princess academy is set up in the mountains to prepare every eligible girl for the prince when he comes in a year to choose his bride. But when bandits threaten the future princess, Miri must put her hopes aside and use all that she knows of the mountains to save them. A beautiful Cinderella retelling with just a hint of the Biblical story of Esther. A lovely book.
*In the Hall of the Dragon King–Steven R. Lawhead
Classic fantasy from a Christian perspective. This book was the first Christian YA novel I ever read and it remains a favorite. A young hero in above his head, political intrigue, and supremely evil villain. If you love traditional "horse and sword" fantasy, this story will please. It hints at the Biblical story of King David but is set in a realm of magic and wonder.
*The Button Girl–by Sally Apokedak
A tale of betrayal, injustice, and sacrificial love. When Repentance refuses to marry Sober Marsh she sentences them both to slavery. But more trouble awaits on the Overlord Mountain and soon her entire village is in danger. Can she convince Sober to help save their home after breaking his heart? A lovely story that illustrates God's love for us, even as it delights and entertains.
Ink Heart–Cornelia Funke
My favorite YA book of all time is the middle installment in this series. You know how everyone is looking for the perfect book, the perfect blending of the beauty of a literary novel with the thrilling plot of genre fiction? Well, I think that these books are that golden achievement, a literary page turner. Epic, beautiful, fun, heart wrenching, and adventurous! All three of my boys loved it.
Artemis Fowl–Eoin Colfer
As a mom of three boys, it is always a delight to discover boycentric fiction. From dwarves that propel themselves through the earth using flatulence to tough elven pilots, this whole series is a blast! Add a twelve-year-old villain with everything at stake and it means seat-of-your-pants action and fun the whole time. I read the whole series out loud and the boys adored it.
*The New Recruit–Jill Williamson
A teenage skeptic is forced to choose between military school and a Christian spy organization. Can he find the faith needed to save The Mission League from enemy infiltration? This was such a fun read, full of action, and great spiritual questions.
Pride and Premeditation–Tirzah Price
A delightful visit back to the world of Pride and Prejudice … only different! The author has taken all of our favorite characters from Jane Austen's masterpiece and moved them into the higher working class rather than the landed gentry. This is so fun as it allows our heroine to believably solve a mystery and makes everyone just a bit more relatable. Darcy is the son of a highly regarded lawyer and Elizabeth has been working in her father's tiny law office for years without acknowledgement because she is a young woman. When Bingley's brother-in-law is murdered, both Lizzy and Darcy leap into the fray to solve it making sparks fly. A great read for teens as it is a clean page-turner of a mystery with just a hint of romance. So much fun!
*Into the Fire–Kim Vandel
When a flame-shaped tattoo shows up on her wrist, Kate is thrust into a weird world of superheroes and their fallen counterparts. Can she learn what her mysterious gift is and survive her military-trained teacher? If she doesn't, will the forces set against them overcome her new friends at last? Fun, action-filled, and romantic. Real teens facing tough choices and trying to find out if their faith is truly their own.
A World Without Heroes (The Beyonders Trilogy)–Brandon Mull
These are my favorite of Brandon Mull's books. One of the best bad guys of all time, the weirdest duel ever, falling into a hippo and ending up in another world, and so many strange and unique characters. I adore these books! They are very boy-friendly, but are awesome for girls, too. I love all the characters, the hard choices they must make, and their growth over the length of the story. Such a good series!
Novels
The Bible–Isaiah 58:6-11
This passage was so convicting to me. But it also shows me both the fierce strength and gentle love in the heart of God!
*Dear Henry, Love Edith–Becca Kinzer
Yay! Another Christian romcom writer has entered the world! This one was just so charming. Neighbors have names that sound like they might be older folks and a series of rediculous events keep them from realizing that they are in fact each other, ha! Falling in love but not realizing who you are falling in love with. So delightful.
Theft of Swords (Book one of Riyria Revelations)–Michael Sullivan
Think Lord of the Rings meets Psych. This series has all the best parts of both an epic quest and a buddy film. A grumpy assassin and a cheery swordsman have been professional thieves and best friends for some time. However, during a job gone wrong, someone kills the king and frames them for the murder. Kidnapping, prison, a feisty princess, a 1,000 year old wizard, a monk with a photographic memory, epic thievery, and the hilarity of a friendship between wildly opposite personalities. This series is simply fabulous. My sons have each reread it at least three times and so have I.
*When Stone Wings Fly—by Karen Barnett
This beautiful dual timeline romance does something I've never seen before. In telling the story of how the Smokey Mountains National Park was created by setting aside the land of individual citizens (both willing and unwilling) the tale gives honor to both the vital importance of preserving our natural wonders and the heartbreak forced upon those who lost their family homes and land. As someone who has had something similar happen in my family history, I was amazed at the care and skill this author exhibited in telling both sides of this story well. Plus, there are two amazing love stories and joy and tragedy woven through it all in such amazing ways. Tons of history is included as well as beauty, deep characters, and just plain good storytelling. 
*An Endless Christmas–Cynthia Ruchti
Meeting your boyfriend's family over Christmas is a big deal, an even bigger deal if he proposes … in front of them all … and you turn him down. Full of all the awkwardness, hilarity, and chaos RomCom readers adore, but with moments that brought me to tears all mixed in, this is a new favorite.
Pride and Prejudice–Jane Austin
Called the finest romance of all time, I can't help but agree. This isn't only a romance. It's a RomCom, social commentary, and the story of a young woman of wit and strength who learns and grows and realizes that yes, she can also be wrong. I read this book every year. It is just that good.
*Wooing Cadie McCaffrey–by Bethany Turner
So many times Christian fiction has been called shallow. Not so with this delightful RomCom! This is my favorite of Bethany Turner's books and I have loved them all. The writing is hilarious. The story has that awkward and delightful humor that a RomCom requires but also contains a depth that I have never come across in a Christian RomCom before. Many authors refuse to allow their characters to make mistakes, but this tale takes the characters through truly dark times and then raises them up with the powerful forgiveness that Christ offers. All while being so so funny! How does she do that? It is just so good!
The Way of Kings–Brandon Sanderson
Every book in this series is over 1,000 pages long and yet, when all three of your sons beg you to read a book, you read the book! This is epic fantasy, both in its sheer size and in the vast number of characters and scope of the story. The author doesn't just create magical worlds, he creates a whole unique universe and many of his books intersect in subtle ways that delight my sons. Even though this story is so large, it moves at a fast pace once you get past the two prologues and into an intriguing tale about a surgeon turned slave turned hero. If you want to be immersed in another world with characters you love, this is the book for you.
*The Mistletoe Countess–Pepper Basham
A warm and delightful marriage of convenience story that had me laughing out loud. I love this book! The perfect Christmas read. Whether you have a warm crackling fire and a mug of cocoa, or not, you will feel like you do as you charge through a Christmas worthy of Dickens himself with Gracelynn and Frederick!
Shades of Milk and Honey–by Mary Robinette Kowal
Pride and Prejudice with magic! This whole series was a delight. Set in the world of Jane Austen, a plain young woman with skill in magic who always seems to be outshone by her beautiful sister is thrown into the company of an artist with more skill than manners. Such a fun story!
*Tainted–by Morgan Busse
There is such a shortage of Christian steam punk! This story is inspired by Frankenstein … only told from the perspective of the monster. Brennan adored it, so this story works well both for adults and for teens. Love it!
*Whose Waves These Are–Amanda Dykes
Christian literary fiction, finally! But don't worry, this book also has plot! Lovely and powerful prose but with characters and plotlines that zipped me through the book at a gallop. This book is that rare tome, the beauty of a literary novel and the plot of the best genre fiction. The novel is a gem and would be an amazing book club read!
The Princess Bride–William Goldman
This is such a funny, sarcastic, romantic, and insane story! Yes, it is mocking fairytales … and yet it is also a lovely fairytale in its own right. Be prepared for snark and fun!
*The Red Door Inn–Liz Johnson
Set on Prince Edward Island, a young woman escapes the danger and opulence of her past for the simplicity and heart of a simple bed and breakfast that needs her. Can she pay back the charming old man who rescued her before his suspicious nephew kicks her to the curb or her manipulative father finds her? This is a new favorite author for me. What I love is her realistic depiction of someone recovering from trauma combined with the cozy beauty of Prince Edward Island and the healing of found-family and gentle small town life. Such a delightful book!
To Kill A Mockingbird–Harper Lee
My best friend and I exchange books every year for our birthdays. She always makes me read a literary novel and I force her to consume some kind of genre fiction. This was my absolute favorite book among all the literary masterpieces she has introduced me to. It is masterfully written with a simple elegance that speaks deeply of the human condition and what one soul with integrity can accomplish if they stand against the mob. Not a happy story, but it is a good one.
*The Dating Charade–by Melissa Ferguson 
Such a funny book! The heroine finally gets the chance to go on a big date … only she has taken in three unexpected foster children. The hero's sister just showed up out of the blue and dumped her three young kiddos on his doorstep. The solution … hide six rowdy children from each other and pretend that their lives are totally uncomplicated. Yeah, that's not going to backfire at all.
*The Trouble With Love–by Toni Shiloh
This whole series was just wonderful. Three strong and sassy African American friends are living the good life when love enters their well-ordered lives to cause all sorts of trouble. Each story in this trilogy is unique, powerful, and heartwarming. I was so so glad to discover this author and can't wait to see what else she has in store. 
*Missing Mabel–by Nancy Mehl
Oh, my! This book, ha! What happens when your job seems simple (style hair at a funeral home) but ends up revealing a terrible crime? A hair stylist notices that the corpse at the funeral does not have the same head of hair she worked on the day before. Who made off with the real body and why? In the tradition of Miss Marple, this story is my favorite Christian cozy mystery. So good!
*The Haunting at Bonaventure Circus–Jaime Jo Wright
Creepy Christian fiction? Yep, and these books are great! A duel timeline mystery with some super spooky moments, a stalker, and a circus in danger. I especially loved that the author had a single mother as the heroine and used her own struggles with Lyme disease to increase the tension. If you love Poe, but want to also see redeeming elements in your fiction, this is the author for you. 
*The Atonement Child–Francine Rivers
This is such an amazing story. The heroine is at Bible college and engaged to the perfect man, when rape and an unplanned pregnancy destroy all that she has worked so hard to achieve. Is God still there, still loving, when everything is falling to pieces? Told with compassion for both the vulnerable unborn and the hurting women who choose abortion, this story is captivating and powerful. A tough read at times, but so good.
*Long Time Comin'–Robin W. Pearson
 Wow, this lady can write!!! I was just blown away by this powerful novel. She has somehow taken the complexity of those hard to love people in our lives who are more fierce than tender and given them honor as she created her characters and their redemption story. Such an honest look at faith in God out in the real world where we make a mess of things, but God just keeps on doing powerful work with us nonetheless. If you are longing for Christian literary fiction, give this one a try. It has lovely writing, deeply drawn characters, and a powerful emotional journey for the reader. 
*Jerusalem's Hope–Bodie and Brock Thoene
So … this is book six in the series, so I suppose I should have told you about Jerusalem Vigil which is book one. But while I love all the other books, Jerusalem's Hope is my favorite! Three young boys that Yeshua has healed go on a quest to Bethlehem where they meet an old shepherd with a terrible scar and a very important memory to help them understand the miracle worker from Galilee. From the lambing caves of Bethlehem to the bloody alter in the city of Jerusalem, everything speaks of the sacrifice that Yeshua will be asked to make, if only they can see it.
*Relative Silence–by Carrie Stuart Parks
This book has a Newfoundland dog!!! OK, so it also has a forensic artist entangled in family mysteries, a hurricane, and a murder. The story was wonderful, but the doggy won my heart! Clearly, this author has been around Newfoundlands before as she painted Nana perfectly. Smart, soggy, and thoroughly food motivated. When everything is going wrong, the heroine can count on Nana to be by her side. 
*In Search of a Prince–by Toni Shiloh
A royal romance with all the feels! This story takes the fun of a secret heir looking for their true match (under deadline, of course) and livens it up by making that kingdom a small African Island and the royal a competent New Yorker who isn't all that sure that the island life, much less the life of a queen is for her. So fun! Plus, this book won a Christie! I've enjoyed Ms. Shiloh's books before, but this one just might be my favorite.  
*The Promise Bride–by Becca Whitham and Gina Welborn
Prairie romance at its finest! There are many difficulties with becoming a mail order bride. Such as, what if he's dead? Not as much of a problem if you aren't actually married, but Emilia got married by proxy and therefore is now responsible for the horrendous debts of a husband she never met. The gruff sheriff isn't helping things as he is determined to discover what actually happened with his best friend's highly suspicious death and no meddling woman, beautiful or otherwise, is going to stop him. A fun and romantic tale through and through.
*Authentically Izzy–by Pepper Basham
Romantic comedy at its best added to the bookish charm of a librarian and a bookshop owner exchanging correspondence. Swoon! Plus, there is a manor house on a cliff and a mysterious but beautiful island, so fun! 
*Finding Father Christmas—by Robin Jones Gunn
This may be my favorite book by this author and I've read a lot of hers. From the sister chicks to her beloved Christy Miller series for teens, I've zipped through many a good story. This one shines above them all in depth and impact. Just so charming and lovely! Yes, I laughed and cried many times. So good!