Recipes from Athens Ambuscade
Ya-Yá's Favorite Recipes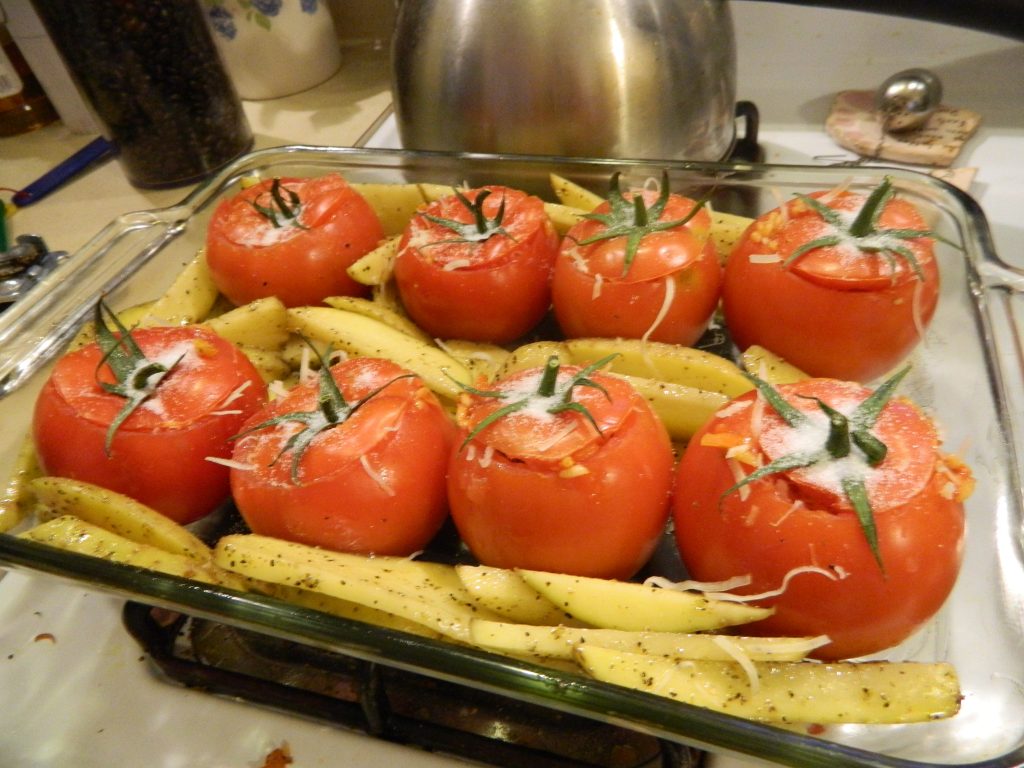 Gemista–Stuffed and Roasted Greek Tomatoes and Peppers
Ingredients
8 large ripe tomatoes
6 large green peppers
4 potatoes cut into wedges
1 red onion finely chopped
2 clove garlic finely chopped
1 sweet red pepper
1 carrot grated
1 can chopped tomatoes
A small bunch of parsley chopped
A small bunch of fresh mint chopped
2 Tbsp. tomato paste
1 Tbsp. sugar
2 Tbsp. butter
1 tsp. Oregano
1 tsp. Thyme
Salt and Pepper (preferably freshly ground)
Extra virgin olive oil
1 cup Rice
½ cup shredded parmesan cheese
½ chub sausage (optional)
Food prep
Preheat oven to 350 degrees F. Rinse tomatoes and peppers Cut off tops and scoop out flesh and seeds leaving the outer layer of flesh and skin in a nice round bowl shape. Save the tops.
Put the tomato flesh and seeds into a blender. Throw the pepper seeds away. Blend the tomato innards into a puree, add ¼ cup olive oil and sugar, salt, and pepper to taste. Set aside.
Line up the tomato bowls and corresponding lids in a greased baking pan. Line up the pepper bowls in a greased baking pan. Place a small piece of butter into the bottom of each tomato and pepper.
In large sauce pan—heat 4 Tbsp. extra virgin olive oil. In the oil, sauté onion. Then add garlic cloves, red pepper, and carrot, add sausage (if desired). Cook 3-4 minutes. Add can of diced tomatoes, tomato paste, rice, chopped parsley, chopped mint, 1 tsp. oregano, 1 tsp. thyme, a pinch of sugar, salt & pepper to taste. Allow mixture to come to a boil. Add up to 1 cup of water if the mixture lacks moisture. Cook on low with lid for 15 minutes until the rice is just shy of being cooked.
Fill tomatoes and peppers ¾ of the way with the mixture. Place a small handful of shredded parmesan cheese into each tomato bowl and top with lids.
Toss potato wedges and 2 Tbsp olive oil, add oregano, salt, and pepper to taste. Place potato wedges in the baking pans between the tomatoes and peppers.
Sprinkle each tomato with a bit of sugar. Pour tomato puree overtop and drizzle the whole thing with extra virgin olive oil that has been mixed with oregano, salt, and freshly ground pepper. Pour 1 cup of water into the bottom of each pan and cover in foil (make sure the foil has the shiny side down and the matte side up). Bake at 350 degrees F for 1 hour Remove the foil and bake 15 to 30 minutes more until nicely browned.
Serve with fresh bread and feta cheese.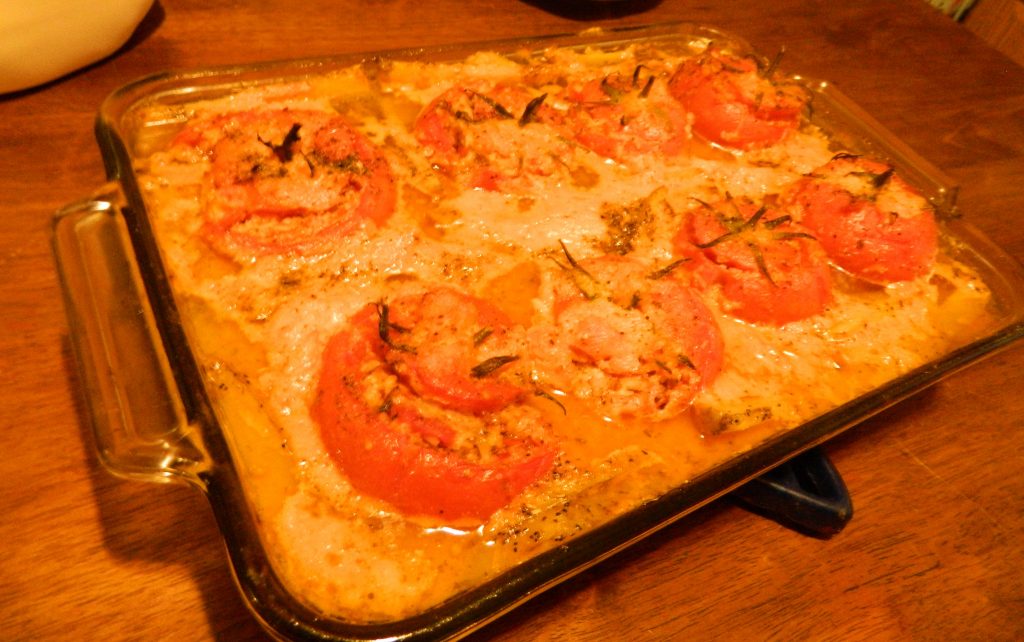 Summer Frappé
Ingredients
1 quart jar
1 tall glass
Instant coffee
Sugar
Ice cubes
Milk
Water
Food prep
In jar add 2 tsp. instant coffee, 2 tsp. sugar, and 1/4th cup of cold water. Place lid on jar and shake until it is solid foam. Pour into a tall glass. Add ice cubes, about 1 cup of additional water, and milk to taste.
Kourabiedes–Greek Butter Cookies
Ingredients
1 cup butter softened
1 cup powdered sugar
1 large egg yolk
2 tsp. vanilla
1tsp. brandy or almond extract
1 tsp. grated orange zest
1/4th tsp. baking powder
½ cup almonds toasted and chopped fine
2 ½ cups flour
¼ cup additional powdered sugar for dusting
Food prep
Preheat oven to 350 degrees F. Mix butter and powdered sugar until fluffy. Mix in remaining wet ingredients. Mix in dry ingredients. Mix in chopped almonds. Knead dough until smooth. Roll about 1 tsp. of dough into balls, S shapes, or crescents. Place onto cookie sheet. Bake for 15-20 minutes until barely browned. Dust with ample amounts of powdered sugar while warm. Enjoy with a cool Frappé and a good book.