Normally, our summer is so jam-packed with amazing camp-related work that we can barely breath, much less get away as a family. As camp director, my husband works seven days a week all summer long and I assist. While we are mourning the loss of summer camp ministry due to Covid19, there is a silver lining.
We were able to go backpacking in the Foss Lakes wilderness as a family, taking along three of our oldest son's friends and of course our furry princess.
Yes, it required all these people to wrap around this ginormous fir tree!
When we asked Princess Leia Freyja if she wanted to go on a walk, she was thrilled. She became less thrilled as the "walk" went on and on and on over roots and rocks, up steep hillsides, across rivers, beside waterfalls, and through hot and sun-blasted lands! Thankfully, this area has tons of gorgeous lakes. We saw eight and actually touched five.
This is our first lake. Trout Lake provided a great place to stop for lunch before we pressed onward.
After gaining 2,000 feet of elevation in two miles due to some alarming switchbacks, we struggled (well, I struggled) around the corner and beheld this!
Malachite Lake! This is one reason that I love getting out into the wilderness. Even though backpacking is super painful and all that trudging up dusty switchbacks, swatting mosquitoes, and toiling over treacherous trails is exhausting, when you finally crest the mountain, feel an alpine wind hit your face drying all that sweat, and behold some of God's secret beauties, it is worth every difficulty. 
We took some time to fish.
Everyone did a bit of swimming, even me! Yes, there is snow feeding ice-cold water directly into this lake, but I was that hot and exhausted. Very very, so very refreshing!
Well, he didn't catch a fish … .
Princess Leia Freyja was so tired after our, "walk" that she plopped down for a nice long nap. As soon as the sun went down, the hordes of mosquitoes descended upon us and she insisted on sleeping inside the tent. I had no idea that she could make this logical connection but she did. Before the mosquitoes came, she was happy to sleep on the grass. But when they started biting her eyes and nose she marched over to the tent and stared at me through the mesh window. When I didn't let her in, she poked the mesh with her snout insistently. Poke, poke, poke. I let her in and she curled up with a sigh and continued her nap. 
The next day saw some difficult stretches of trail, including this segment that required one to "hop" across this river using uneven stones in lieu of a solid-type path. Thankfully, Scruff came back and toted my pack for me, although I did manage to cross this with my pack by myself on the way back out.
There are parts of the trail between Copper Lake and Little Heart Lake where you really do not want to trip! In fact, our boys are such fast hikers that my normal motherly nagging and helpful statements of, "Ahhh, be careful!" were lost by the vast mileage they put between us. I have no idea about raising daughters, but sons begin to chafe at being kept safe and start to pull away. For parents of teen boys, there is a constant weighing of danger vs. the need to let them grow, stretch themselves, and become young men. As a mom, I lean toward safety, but Scruff reminds me regularly that life is an adventure and not always safe. So, we gave each boy a map and instructions to, "Stop at Little Heart Lake and wait for us" then they were off like a shot!
It was a big deal for me to let go and watch my boys tackle this on their own. An important step, but I don't think it is ever easy. Just like this winter when I watched my newly-licensed sixteen-year-old drive to school for the first time on his own, with his brothers in the back, in the morning dark, with four fresh inches of fresh snow on the ground. Can you say, "Ahhhhhhhhh!!!" with me moms? The mountains are amazing, but always dangerous. Yet, my three cannot stay little boys forever and so off they went, galloping down a trail that was only a foot across in some places, had 100 feet of cliff on one side that sometimes led to rocks and sometimes deep water that one really did not want to fall into with a thirty-five pound pack.
This lovely view is of Copper Lake. Between this and Little Heart Lake, I didn't see my sons at all. As I stumbled down the trail, relishing some of the most fabulous views of the hike and trying not to trip and fall to my doom, I had lots of time to pray for my three young men and their friends, that their feet would be firm and that if they fell, it would be on one of the gentle portions of the trail where they could learn a valuable lesson rather than be horribly maimed. But really, isn't all of parenting like this? You prepare, you send them out into the world, and you pray like crazy! Whether it is a tricky trail or someone offering them an illegal substance, life is full of challenges that we must train them to face. 
Later, once we'd all safely reached Little Heart Lake in one piece, Scruff told me how my prayers were answered. He'd just rounded a corner and caught up with our youngest son. Between two dangerous bits of trail was a small patch of flat earth, just large enough for someone to take a tumble. He watched as our youngest stumbled and went down. All he saw were two hiking boots flung up into the air and then nothing! Had he fallen off the edge, hit a rock, smashed into a stump? Scruff hurried as fast as his seventy-pound pack would allow and there was our boy, crumpled on the path in the one safe spot for him to land, groaning, but just fine. Our youngest scrambled to his feet and carried on, such a tough kid. Thanks to his Dad's insistence that I not hover,  he knew that we were confident that he could tackle this hike. And so he stretched his legs and did it, learning valuable lessons about the trail and himself as he went. I certainly learned some lessons, too!
Finally, we reached Little Heart Lake where we sat on this rock and watched huge trout swim below us while eating lunch. Princess Leia Freyja felt that our rock was very unsafe without her there to supervise. Also, we had summer sausage, which also needed an attentive eye. I didn't think there was any way she would make it. Nonetheless, she scrambled out there and smooshed us aside until she found a good spot to sit and help us with our lunch.
We could see so many lakes from this amazing viewpoint. They were just tucked like glassy jewels here and there in the dips of the mountains. Breathtaking! 
A different viewpoint with even more lakes to see!
Through some boulders and across some lingering snow …
Around the corner and …
This is what we saw! 
The boys had all arrived ahead of us, set up their tents, gone swimming, found these logs, and were paddling around in the mountain lake! If you look close, you'll notice that I needn't have worried about the boys being such fast hikers and arriving alone. Princess Leia Freyja didn't let them float on a log without her their to guard them!
Of course Scruffy immediately joined them!
Then Leia had even more people to watch out for.
Once she finally got all the people back to camp, our puppy princess took a well-earned nap. Clearly, wrangling this many adventurous boys was exhausting!
Swimming adventures were followed by cooking adventures. Camp pots and pans were not necessarily designed with the amazing expanding powers of cous cous in mind. Lots of hungry boys = lots of cous cous = "Huh? I thought that pot was bigger."
There was also a fun and spooky fog the next morning and of course a very adventurous trail leading to the "Out." What is an "Out?" Just picture an outhouse without the house. Yep! So, to get to the "Out" one had to cross this logjam over the lake. The "trail" was close enough to a waterfall that you could hear the crashing cataract as you swatted mosquitoes off your face and tried not to fall into the lake. Although, it sounds more perilous than it was. The logs were very old and were dry and not slippery and most of them didn't move at all when you hopped on them. The boys all darted across this like leaping deer … and my son's friends were very encouraging saying things like, "You are getting much better at crossing the logs" instead of "Make sure to let us know when you cross so we can watch you fall in" like my own sons. It was especially difficult first thing in the morning when you really really had to pee, ha! 
Of course, the boys were much more agile and the morning fog did not keep them from exploring. Can you spot them on the rocks across Big Heart Lake?
Around the lake, over the rocks, and into another small world of wonder.
But even without a scramble across rocks, Big Heart Lake was amazing! This is the view from the opening of our tent!
Then the clouds parted and sunshine warmed our skin and it was time to swim once more!
It was warmer … it didn't seem that far … but although they are excellent swimmers, by the time Scruff and the boys made it to the logs they were shuddering with cold and exhausted. Swimming in water this cold is not for the lone swimmer, the faint of heart, or for me! 
Here is our campsite viewed from across the lake. You can just see the tents on that rise. The waterfall is at the left, by those logs. It did occur to me that we should definitely avoid sleepwalking.
Yep, a beautiful mountain waterfall. Just be careful if you are crouching here to get water to filter or wash dishes … you might lose something over the edge! Not that this happened … .
We stayed at Big Hart Lake for 2 nights and 3 days. Scruff took some of the boys on a day hike during our "rest day" and they caught some amazing views of multiple lakes.
I sat out on a log with a good book and got sunburned as my rest. But sixteen-year-old boys view rest differently than mothers.
Our youngest went fishing and our middle-est read a good book hiding in his tent (to avoid both the mosquitoes and his camera-happy mother).
But Scruff got the chance for a photo with our oldest son, high on the mountain tops! 
A lot has changed since the last time they hiked this area!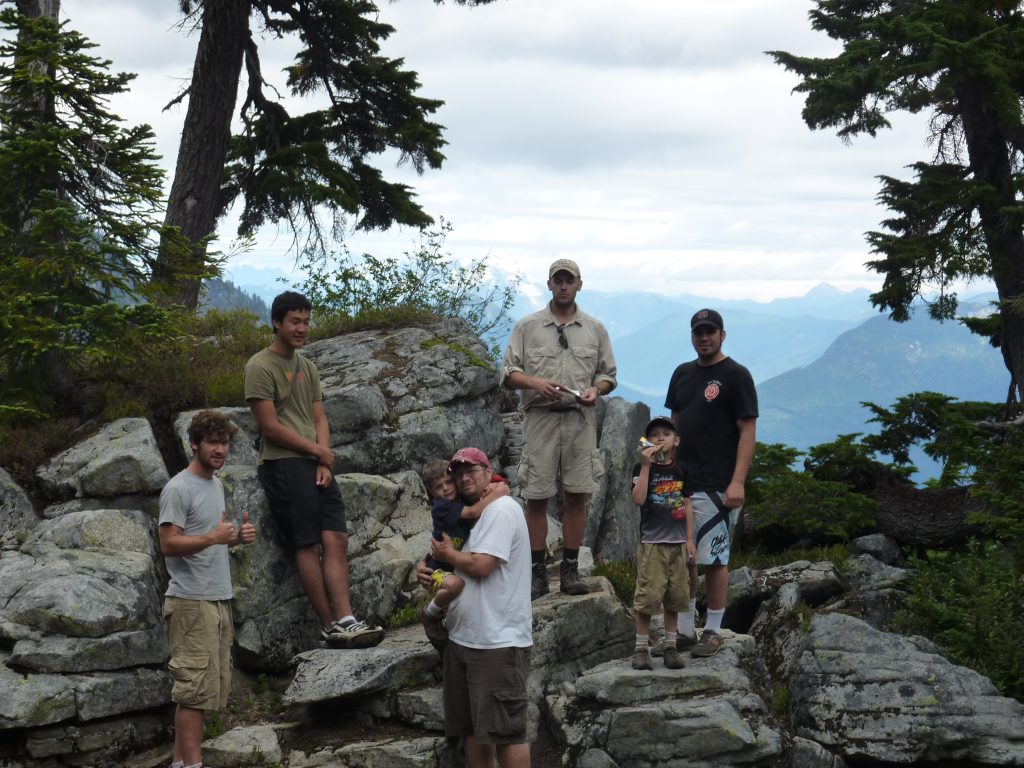 Same Dad and same son, but this was from ten years ago. It's amazing how much a single decade changes your life.
Princess Leia Freyja began to grow weary of the mosquitoes after our third day at Big Heart. One of the things I love about backpacking, is that it is difficult. The dirt and the struggle and the exhaustion, bugs, cooking difficulties, and epic hike to the bathroom all make it difficult to get to the deep forest and high mountain lakes. It is so worth it! But all these hardships do make it just a bit easier when it is time to say goodbye.
We hiked all the way out on the last day.
Although some of us were more tired than others.
A few members of our party had energy to spare. Some used this excess for chasing marmots …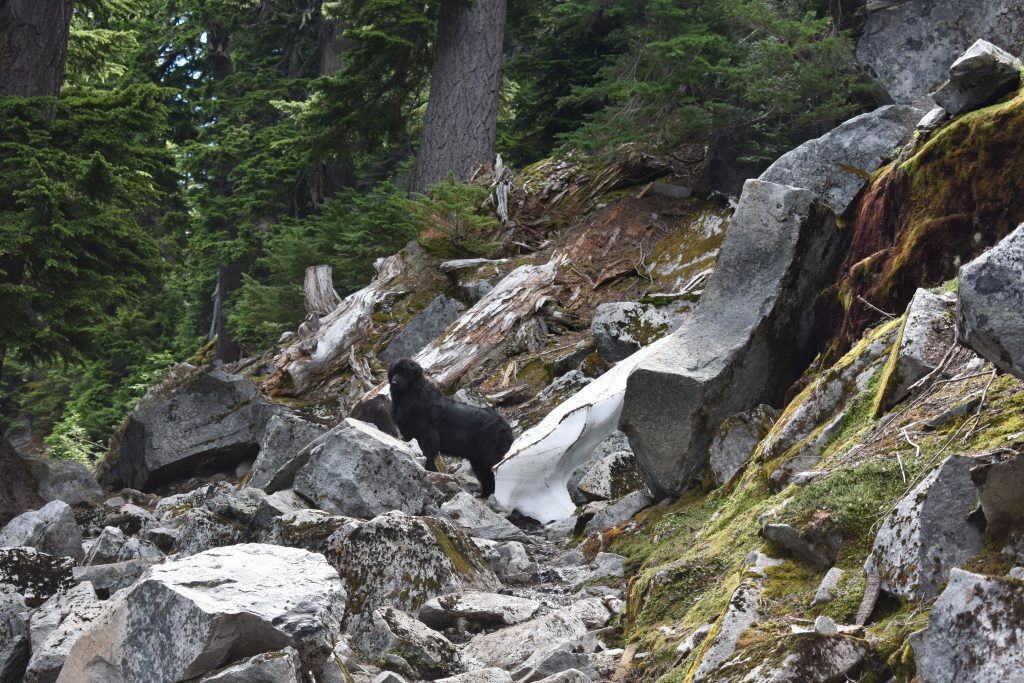 … and others for making human pyramids.
Everyone has their superpower, right? Remarkably, our middle son is able to not brush his hair for four consecutive days and still have it look like this!
When we stopped at Copper Lake for lunch, Princess Leia Freyja took the opportunity to rest while keeping a close eye on the boys.
Scruff scrambled around looking, and finally found this.
Our 20th wedding anniversary occurred just a couple of weeks after this trip and so it was amazing to look at this carving. Twenty-one years ago, when we were newly engaged, Scruff went on a hike here. He carved our names into this log … and then was twenty-one hours late getting back and scared us to death! They were fine, not lost, just "mighty confused for a day or two" and made it out just before search and rescue started looking for them. It was amazing to see a piece of our past, right before celebrating twenty years of marriage.
Of course there was a reason that Princess Leia Freyja had to keep an eye on the boys, especially Scruffy.
Quite a few of the logs at Copper Lake move. So walking across them was overly exciting, but that wasn't quite exciting enough for Scruff. He was the one who convinced two of our oldest son's friends to try turning this rolling log into a boat.
Of course, there is a point where the lake becomes too deep to use a pole and there is only one thing to do unless you want to stay floating there all day.
There were some huge and awesome logs that I got pictures of on our way out.
Between taking photos of logs and our slower hiking speed, Scruff was forty minutes behind the boys and I was even farther back.
When the boys got to the parking lot at the trail head, they started playing a game of Skull and Princess Leia Freyja flopped down right where she was and didn't move at all for the entire forty minutes until Scruff arrived. That's one tired puppy. I totally understand. Well worth the effort, but yeah, it was exhausting. What difficult journeys have you been on that you would do again in a heartbeat?