A Warm Place in the Storm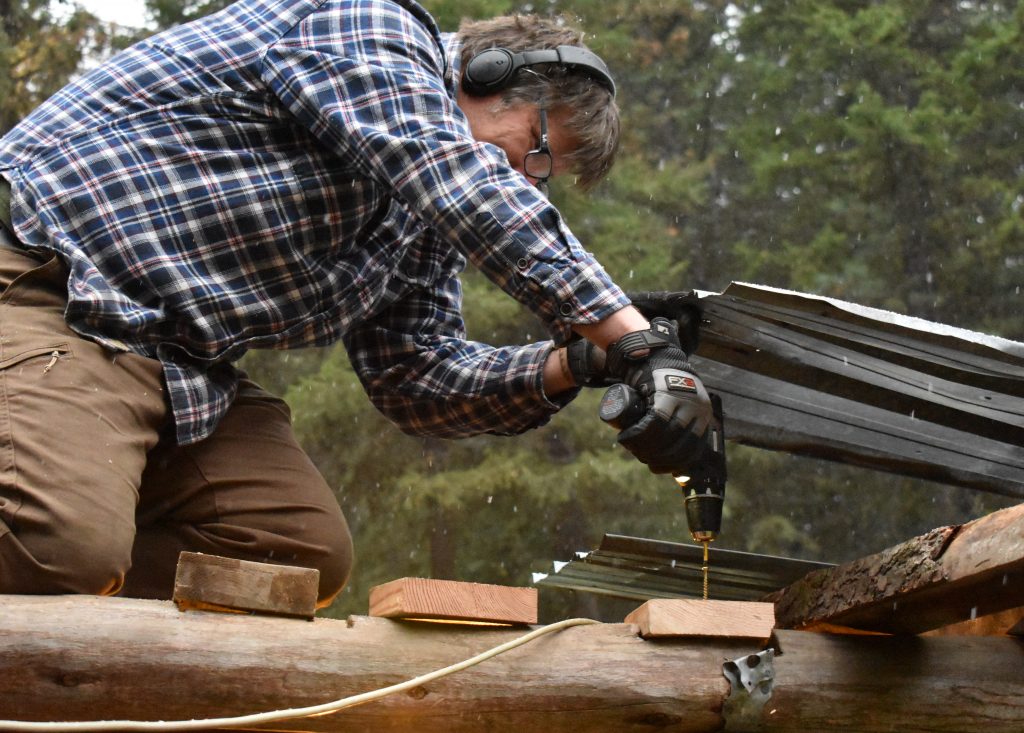 Grandpa Del built Grandma Autumn's dream house just for her. He and many many volunteers felled trees, skinned logs, and constructed the home that Autumn would fill with her warm presence and incredible hospitality for my entire childhood and well into my adult years. However, while they were big of heart, they were not big of stature. Scruffy, the boys, various visitors who topped 5'7″ were constantly bashing their heads into this walkway roof.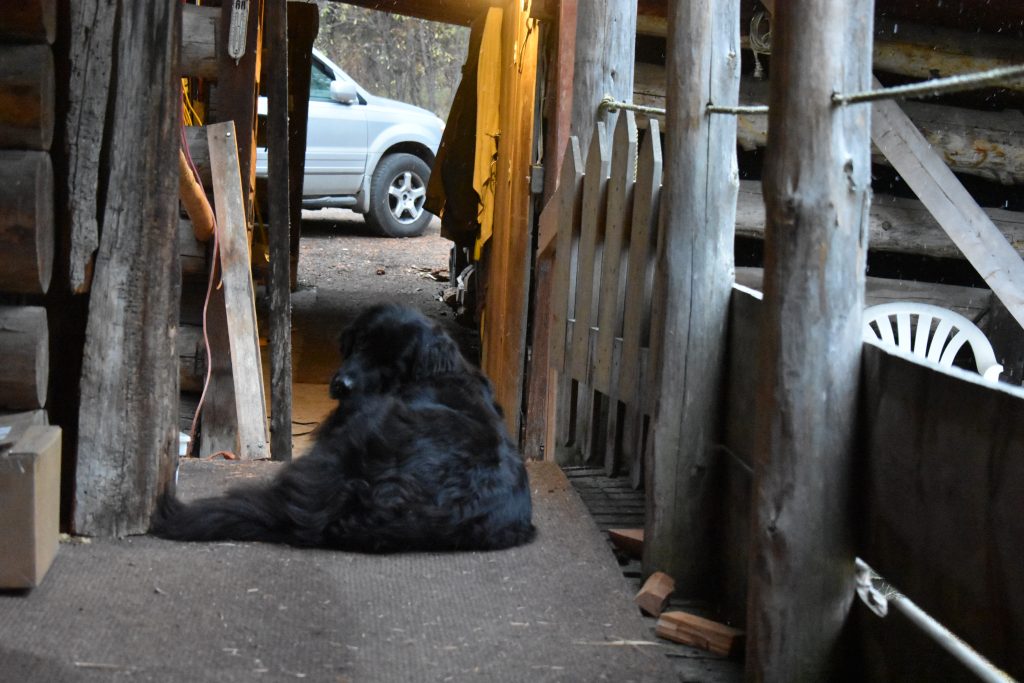 As the first snowflakes began to fly, Scruff wildly worked on raising that problematic roof before it acquired a blanket of snow. Princess Leia Freyja supervised. Inside, I worked on logging 1,667 words a day for NaNoWriMo … but received numerous phone calls from Scruff saying that he had dropped a drill bit or piece of wood and that Leia failed to pick up. Handing these items up to him was my contribution.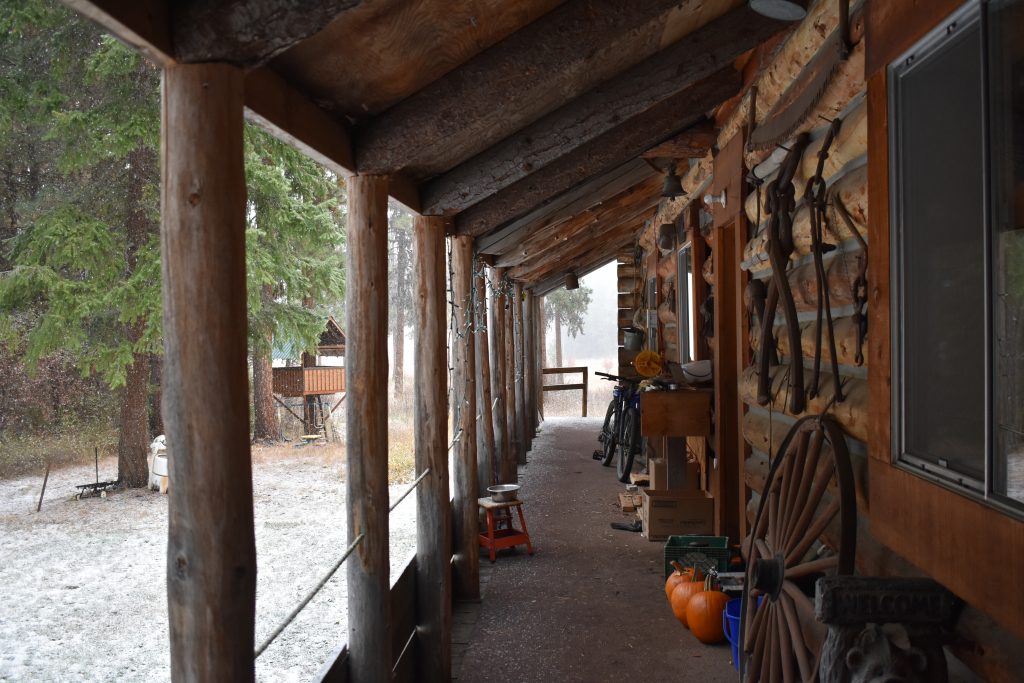 It was late at night before he finished, but we can now welcome non-concussed visitors to our home! Unless you are taller than Scruffy, of course.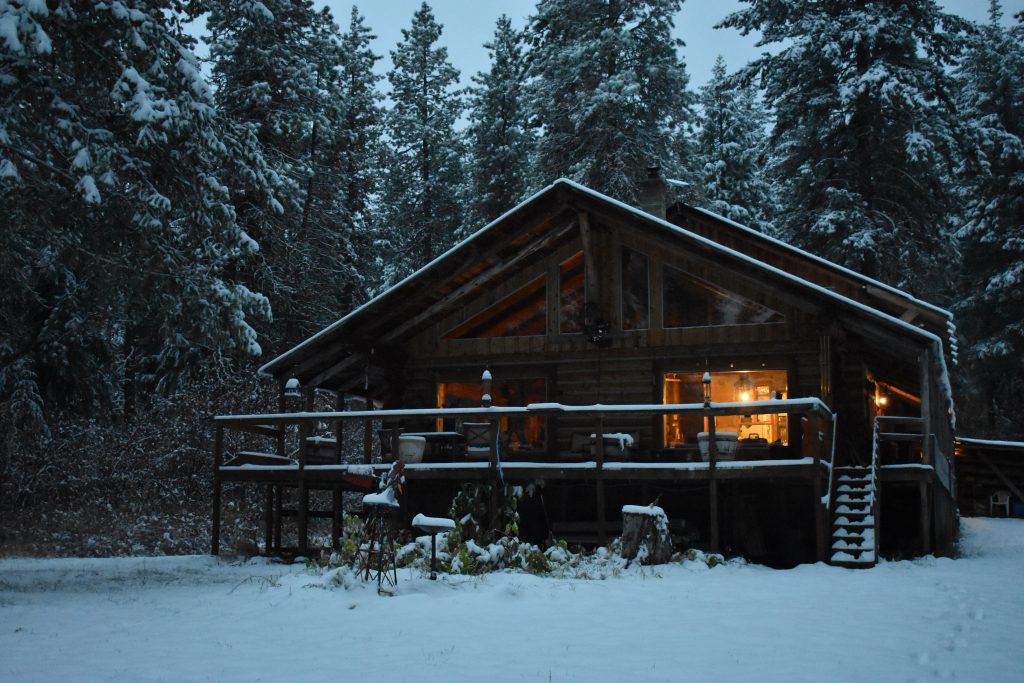 As our first snowstorm darkened the sky and sent us scrambling to put another log on the fire, I was reminded of the only time I was lost outside.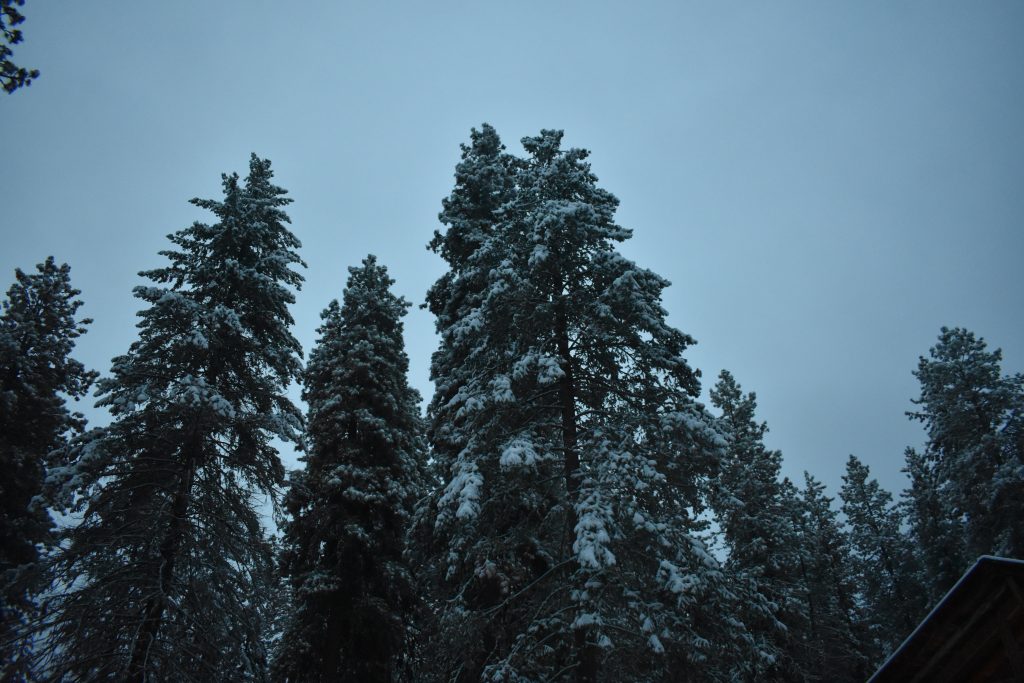 Those who know me may remark that I am often lost when driving city streets, but this was different. I was on foot, visiting a park in Colorado Springs. We had just gotten of the plane with our three young sons and they were so rowdy from having been cooped up that my aunt and uncle directed us to a local park. Now, if you have never been to Colorado Springs, one of its interesting qualities is that the weather can go from hot summer temps to snowfall in a single afternoon. This was just such an afternoon. We wore t-shirts to the park and pulled off our shoes to enjoy the green grass and sunny skies. My kindergartener had an accident and so I left first to take him back to my aunt and uncles for dry clothes. My husband was with our other two sons as they continued to play. I went down the wrong side of the hill and as we walked barefoot up and down the sidewalks, the sky began to spit snowflakes.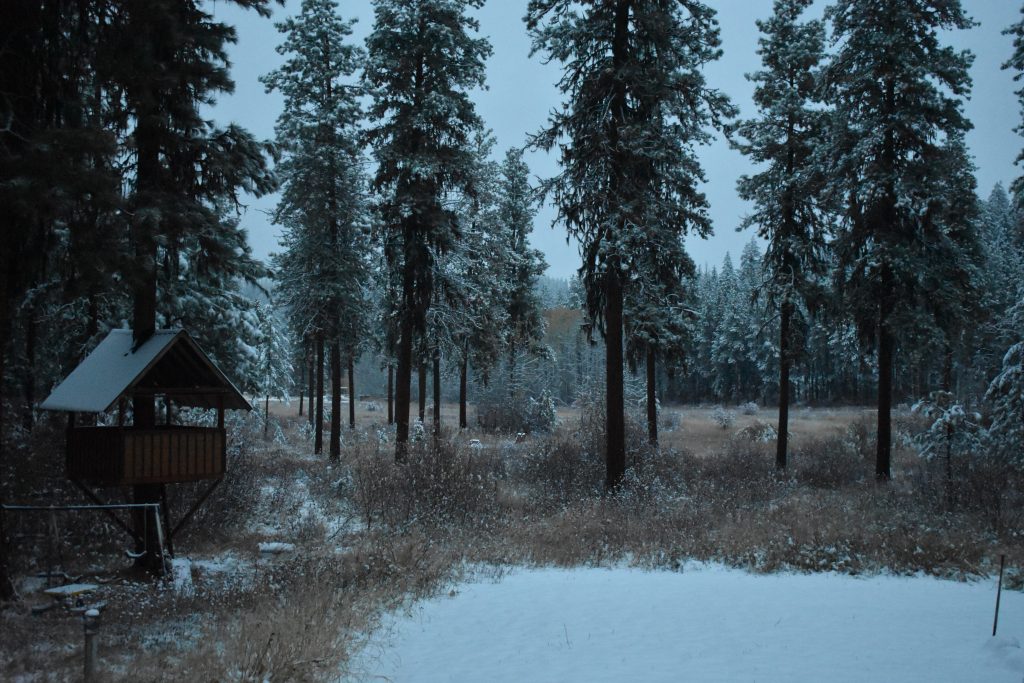 We put our shoes on and continued to search. I walked the streets in a grid, examining each home. None were correct. There were no police officers to ask for help, I didn't own a cell phone (well, I still don't, ha!), and all of the houses were dark and unwelcoming. I have never felt so alone. I didn't realize how much I counted on having a safe place. A place to get a drink of water. We were so thirsty. Somewhere warm where we could sit down or get a blanket if we wanted. A place with food and family. A bathroom. Somewhere safe to take my son. We wandered for at least an hour and a half, maybe two hours. Finally, I stopped looking for the right house and started looking for a business where I could use their phone. I had the address of my aunt and uncle's place and their phone #. We finally came out of the residential area and into the business district. I walked into a pizza joint. They would not let me use their phone. However, they had a map that they reluctantly allowed me to look at. I found the address. We had to hike all the way back up the hill and exit the park on the other side. When we finally knocked on the door, my aunt's mother (Abuela) cried out when she saw us at the door. This woman I didn't really know pulled me into her arms with tears, and suddenly, we were safe again. I was able to give my freezing son a warm bath, warm clothes, and some food. I could get a drink and use the bathroom. I was in a place where I belonged.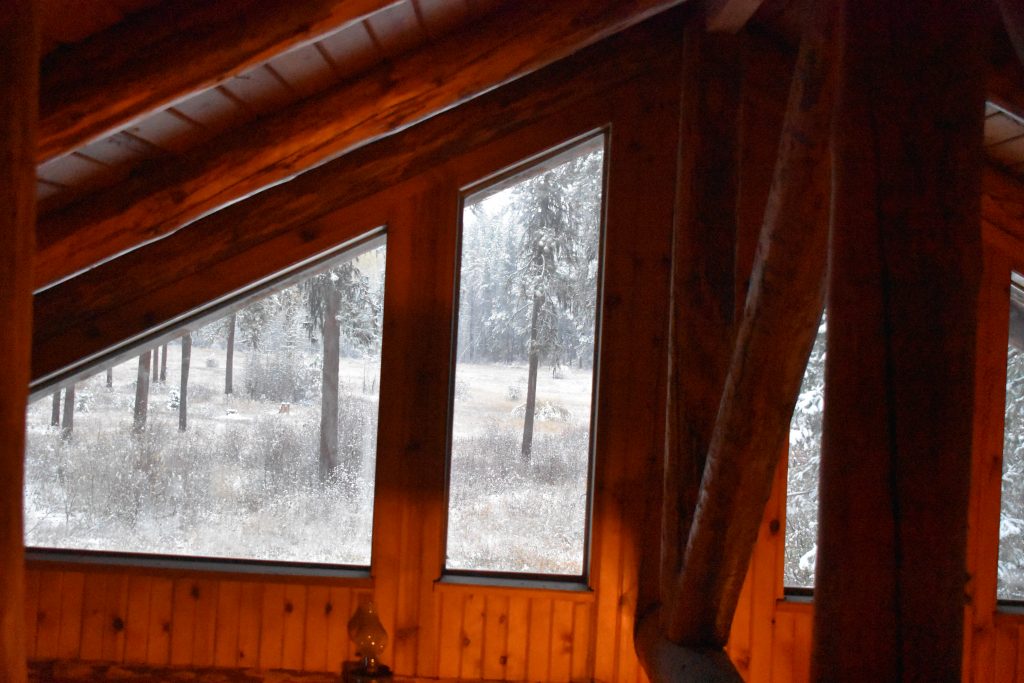 I will never look at home the same again. This beautiful log house that was my grandmother's dream and the work of my grandfather's hands is more than a house. Our family lived with them for three years, before we had a home of our own. Seeing photos of this house in a snowstorm reminds me of countless afternoons spent building snow forts and snow men and having snowball fights with my brother and cousins and friends. When the sky would darken, we would stumble in from the cold. Grandma Autumn would greet us with cups of her special cocoa and sometimes Griffith Toast. As we miss them, grieve that they are not with us and rejoice that they are with their Lord, I am so overwhelmed with the knowledge that their home was passed on to us. As the snow piles up, I want to not only raise the walkway roof so we have fewer bumped heads, but learn to welcome people like my grandparents did. Like Abuela did when she pulled me inside and into her arms with tears and a shout of praise to the Lord in Spanish. We all need safety, warmth, a place to belong. Scruff and I are sometimes overwhelmed by all of the projects that home ownership means. But there is an even bigger weight that we must not forget to lift to our Lord. We pray for God's grace as we try to continue Grandma and Grandpa's legacy. May we learn to love like Grandpa with a hammer in hand and Grandma with a mug of cocoa. Perhaps with a few changes, though. More boardgames and less concussions wouldn't hurt.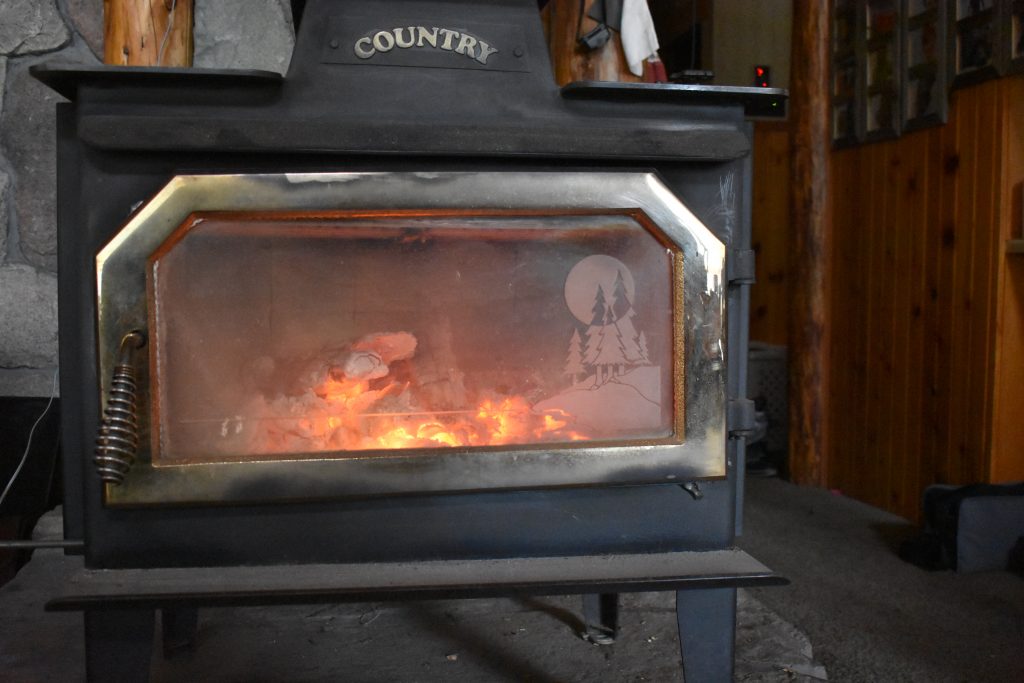 As you enter this chilly but lovely season, may the Lord give you a place to love and the share with others as well. He has truly blessed us beyond what we had hoped for as this winter whistles through the trees around us.