Mt. Rainier National Park
For our "Family Adventure" this year (we have stopped calling them vacations as that word makes one think of ridiculous things like relaxation and calm) we went backpacking at Mount Rainier National Park. Even hours away from our destination, the mountain loomed on the horizon, beckoning us onward and upward.
Our journey took us through the park gate and up twisty mountain roads designed and built in the 1920's.
My author friend Karen Barnett sent Ranger Bear on our adventure!
Just the approach to Sunrise Visitor Center was breathtaking. Both for the amazing views of the mountain and the narrow twisty road that zigzagged  higher and higher offering both glorious scenery and a fabulous plunge downward if one happened to soar off the road in a moment of distraction.
Yes, even the parking lot at Sunrise was gorgeous.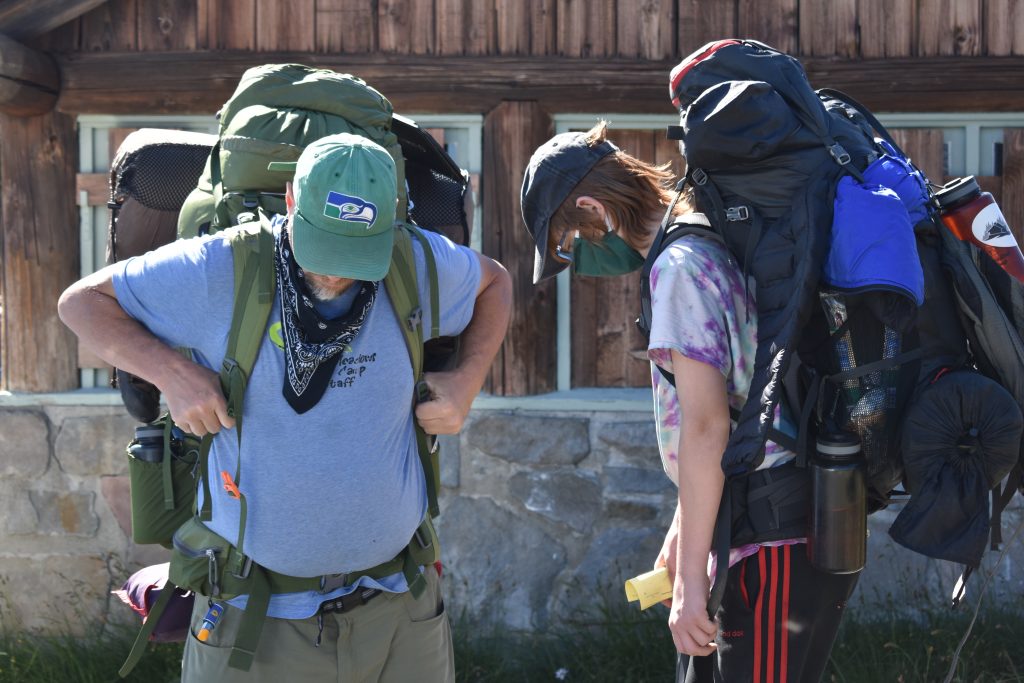 From the visitor center, we gathered our packs with everything we might need during the next four days and set out into the backcountry.
Of course, Ranger Bear went along.
It was only 1.3 miles to Sunrise Camp, a backcountry campground, but the views were fabulous.
The hike was short enough, that when Brennan begged to do it barefoot, we acquiesced. 
He left some strange tracks behind to baffle the rangers.
This shot of Brennan and Daryl heading into the trees, gives you a good idea of the wonderous beauty that this short hike displays. You don't even have to camp to enjoy it. Many folks we passed just drove to Sunshine Visitor Center, parked, and day hiked it. So gorgeous!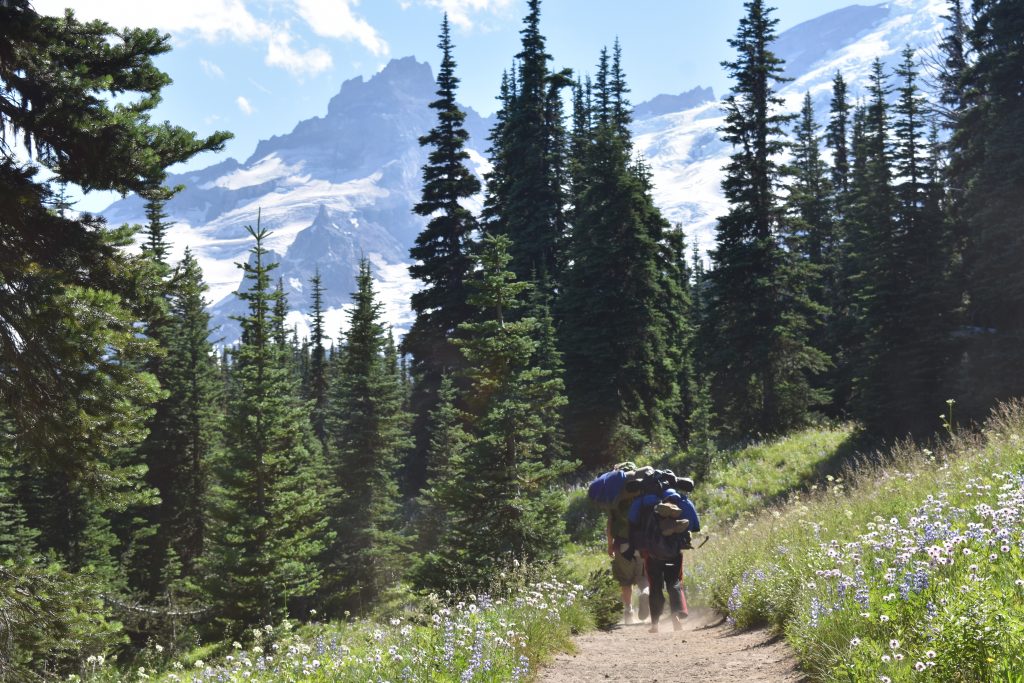 These sub-alpine meadows are just crammed with wildflowers, too. And when we walked around a corner in the trail, we saw this!
We named him "Gus" and he simply chowed down on bear grass while we walked on by. In fact, Theo walked down the short trail from our campsite to get water from the lake, and Gus was flopped out resting in the middle of the path! Thankfully, at the sight of Theo, Gus high-tailed it to a field of lupine to eat more veggies.
With a quick stop at Shadow Lake to get our bearings … where are the campsites?
Scruffy took the chance to properly annoy his sons with wildflower trivia. He got a flower guide and had it out regularly, telling the boys the Latin names of things and generally making them sigh and run away from the next flower sighting.
We left Gus the bear behind and were off to find our campsite!
Yes! It had an outhouse. As someone who has had to dig a hole in the forest before during more rustic backpacking excursions, this was a joy to see.
Backpacking with older kids is awesome.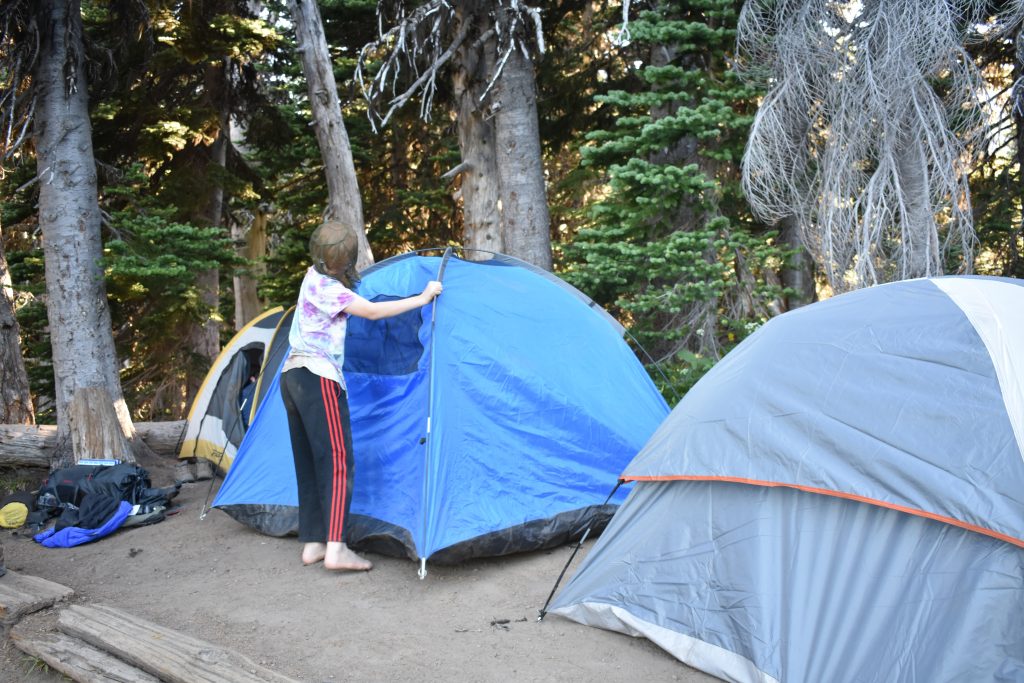 They all know how to set up their own tent! Yes, our very first backpacking trip with the boys was to the Olympic National Forest for three days. The boys were 8, 6, and 4 back then. Now that we have sons of 16, 14, and 12 years, they carry tons of gear, can cook and clean and set up camp as well as adding some stirring sarcasm to the conversation while out-hiking us with care-free abandon.
Here they are roasting marshmallows over Brennan's stove.
This was the view from our campsite and yes, that little path is the one that Gus was napping on. Each of us took turns hiking down this steep trail to get water for the Platypus, a gravity water purification system where you just hang a bag of dirty water in a tree and it flows through hoses, gets filtered, and fills up the other bag with clean water. So cool!
The hike to our campsite was pretty easy, but that just meant we had more time for fun day hikes. Plus, when you are day-hiking, you don't have to carry all the tents and stoves and things, only a daypack with The Ten Essentials. 
Our first day hike was to the "real" bathroom back at Sunrise Visitor Center. Sadly, there was construction going on and this disheartening sign. One of our sons had decided not to use the outhouse … for the entire four days. With just over a mile hike back to the bathrooms, he'd thought that all would be well. Nope, every time Scruffy tried them, they were open. But every time he hiked in, they were closed!
We hopped in the car and drove down to Sunrise Point where we parked and then took the Palisades Lake Trail for our first adventure.
This hike is seven miles round trip and passes by a whole string of lakes. The trail passes five lakes, with the option of taking side trails to see two more. Judah and Scruff, hiked up to Hidden Lake, which they claim was the best one of the lot, while the rest of us hiked out. I did get to see Clover Lake, Tom Lake, Dick Lake, Harry Lake, and Upper Palisades Lake which Scruff and Brennan took a dip in.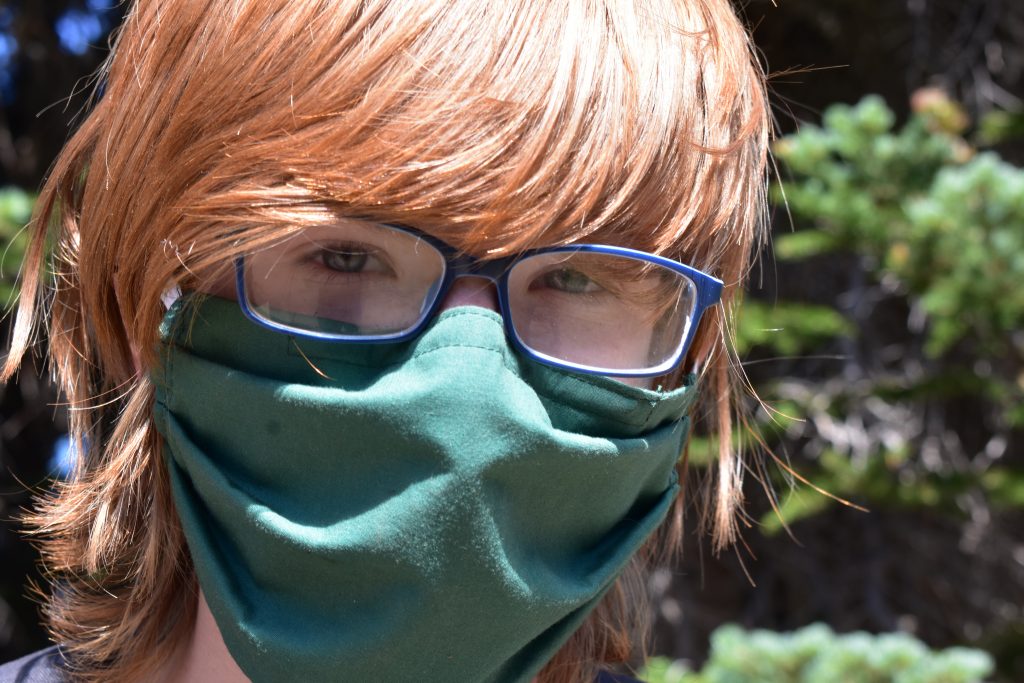 However, the highlights of the trip were the meadows filled with Lupine! Now, we have Lupine in our meadow back home, but there were so many flowers that your senses were overloaded with the amazing floral scents and the beauty was difficult to describe.
Pictures don't do these sub-alpine meadows justice, but I tried my best to capture the experience.
Ranger Bear was also amazed by all the beautiful flowers.
Of course, the boys wrestled their way across logs, up and down steep trails, and onto the banks of the final lake. We did manage to keep them from stomping on the fragile meadows though. Even rambunctious teens cannot help but be impressed by such beauty, deep down, under the snarky comments.
This is Upper Palisades Lake.  And here is Scruff, doing his "Sound of Music Impersonation."
We stopped at the final lake for a rest and a snack, even Ranger Bear.
Some of the boys were more eager to pose for photos than others.
But thankfully, there is always a son willing to attack his brother and force him to face the camera. Sadly, smiling is difficult to pull off through wrestling attacks and so motherly photographers must take what they get in the photo department.
But there were plenty of breath-taking flowers to distract me from the difficulties of capturing smiling sons on film.
Here I got both. Brennan on the hike back, walking through a carpet of fragrant Lupine.
Even though he took a detour to see Hidden Lake, Judah beat us all back. He sat on this awesome rock wall from the 1920s to wait for us.
Once we dragged our weary bodies back to camp, it was time to cook dinner! Which of course meant lighting the mosquito coil and being super careful to bury all our wash-water lest Gus the Bear be tempted to investigate our camp.
Brennan offered to take a picture of Scruff and I … which involved him laughing a lot and taking photos that cut off our heads. Here is the best of the bunch. Something I didn't expect was the vast number of stars visible from Sunrise camp at night. Now, we live in the mountains and the stars are amazing, I have been backpacking in wilderness areas many times. The stars were nothing like this! Perhaps the remote area combined with the high elevation … but a 1:00 or 2:00 in the morning, I stumbled through the freezing temperatures toward the outhouse and was stopped dead in my tracks by the sight of the sky. I've never seen the milky way so clearly or such a display in the heavens. Utter blackness dusted with brilliance and it was like that every night. 
The next day, we hiked up the Mount Fremont Lookout Trail where a watch tower helps rangers spot forest fires.
It upon this trail that I took the best picture of the three boys together all year. Their eyes were all open! They were facing the camera and not wrestling! In a shocking turn of events, Theo was smiling, naturally, not a vampire glare in sight! Behold, the masterpiece.
Although it was August, this hike actually involved crossing a snowfield.
There were also dangerous animals lurking about.
These squirrels were just waiting to tear into your pack or scramble up your leg to snatch a peanut out of your hand. Their preferred method of making you drop a food item, bit the hand that fed them!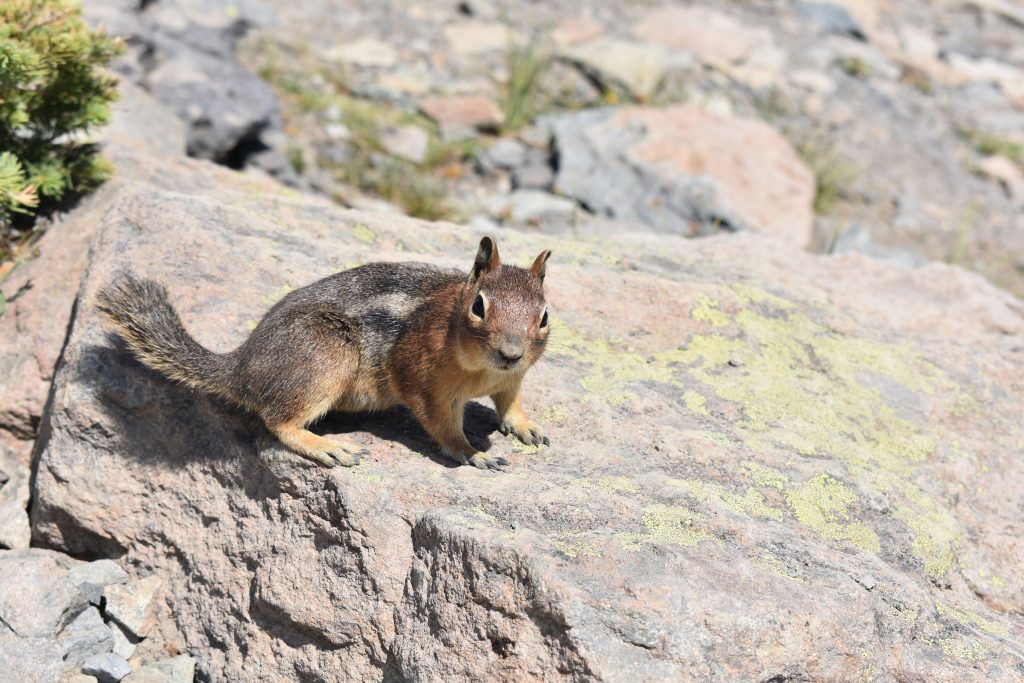 Since this very thing happened to one of our interns last summer, the boys insisted that I send her a photo of the squirrel and the warning sign. 
Here are Theo and Brennan, carefully avoiding the squirrels. I wasn't as lucky as one actually sat on my foot and tried to climb my leg. Thankfully, I didn't get bit, but they did find some entertainment in watching me shake off the invading squirrel.
Judah and Scruff climbed Mt. Fremont on the way back down.
This was an amazing trail with some fabulous views.
And of course, grazing marmots!
Although, not necessarily sons smiling for photos.
This glare, skillfully directed at his mother, is powerfully communicative!
More cooking back in the camp …
… and more flower trivia!
Bartholomew the buck came through our camp every night with three does. We named them Beatrice, Bernice, and Bernadette!
The next day, we set out to climb the Burroughs Mountain Trail.
Also, the boys climbed trees …
While we took in the amazing views and finally got a picture that had both our heads centered in the frame, yay!
This trail had another snowfield to cross and was described by informative signs as very much like the Tundra.
We saw thirty-three mountain goats meandering toward this lake far below. They were barely visible as white specks, but you could just make out the babies frolicking as the adults plodded along.
Mt. Rainier feels so close here, that I actually felt nauseated by both the height of our position, the looming mountain, and the drop off down the shale-covered edges of this ridge.
Scruff was not concerned as he nibbled his lunch.
You can just see Frozen Lake in the distance, which we passed on our hike to the fire tower on Mount Fremont the day before.
Time to pack up and head out of the park.
Yep, this is exactly what packing looks like.
That, too!
And dropping frisbees on a little brother's head always speeds him along.
Actually, the boys were so cold that they packed up at record speed. The thought of a hot meal not cooked to perfection over our camp stoves and the siren call of bathrooms with running water spurred them on.
Once we'd packed up camp and had everything we'd brought stowed, it was time to set out for the Sunrise parking lot.
Of course, once we got the expedition packs loaded in the car, we grabbed our day packs and took in one more short hike.
This view of the mountain is less than a mile away from The Sunrise Visitor Center parking lot!
Two of the boys hiked The Sourdough Ridge Trail barefoot.
I was just happy to make it up the Huckleberry Creek Trail to the lookout safely.
They will hike things barefoot, that are hard for us fully shod. Whether in boots or bare toes, the view was spectacular.
The ridge looked down on our camping spot and the little lake where we got our water.
Finally, it was time to say goodbye to Mt. Rainier National Park.
And to say hello to a hot meal with French fries and ice water! One that did not require digging a hole for our leftovers, not that there were many.
Finally, a board game together after showers at Grandma Judy's house. What an adventure! What is your favorite family adventure? Ranger Bear wants to know!