7-14-2019
I am learning that the everyday adventures we enjoy, living in the glorious forest surrounding a remote Bible camp, seem odd to town-dwellers.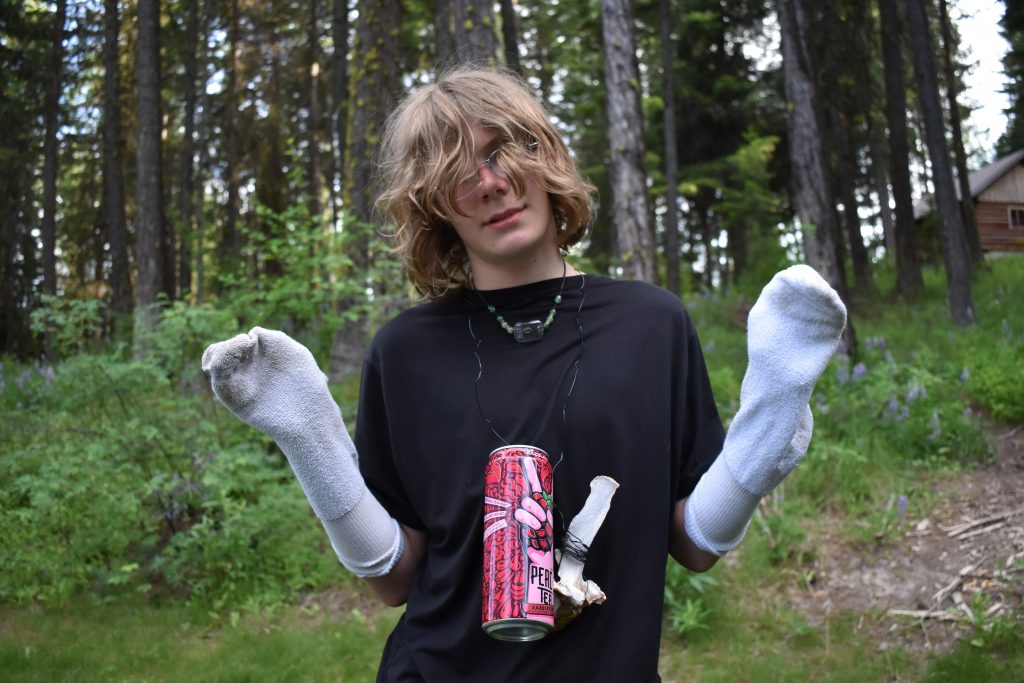 The winner this week: This, quite possibly, overly-creative necklace that Sweet Boy#2 constructed to wear to school. It consists of the torn-out wire from a spiral bound notebook, the vertebrae from a small elk carcass that some carnivore abandoned in the meadow, and an Arizona tea can that he added to his ensemble while at school. Here he is, wearing his necklace along with his "mouse-catching gloves." It turns out, that wild mountain mice, no matter how adorable, do indeed bite.
Yes, I also let him construct this amazing terrarium out of some old rum bottles, a spaghetti canister, and no small amount of duct tape. What was he intending to house in this multi-level creature habitat?
You guessed it, mice!
Did he wish to spend some of his hard-earned money at a pet shop and purchase tame mice for his homemade terrarium? Nope. Of course not! We are currently battling invading rodents in our car (a downside of living in the forest) and my middle son wished to save the lives of a few of these wild car mice. But what are the odds that your thirteen-year-old will actually succeed in capturing a live mouse when you yourself can barely tempt them to their deaths with a frightening array of murderous traps?
Obviously, we seriously underestimated his mouse-catching abilities. My blond creative used an old box and some peanut butter and nabbed himself six live baby mice!
While his terrarium was a fabulous creative achievement, featured comfy beds of greens, a climbing stick for zipping up and down the tall spaghetti canister, and truly filled Scruffy and I with pride … both of us were a bit doubtful concerning exactly how secure these mice would be if permitted to lounge about within our home.
And so, the adorable captives were relegated to a box outside next to the chicken coop. Sweet Boy#2 enjoyed watching them zip up and down the stick ladder, deftly dart between the rum bottles, and curl up in an adorable heap for a nap in the chamomile daisies that padded the floor of their fancy den.
That night, they promptly escaped!
So, while it is indeed a pure delight to live on a mountain meadow out in the middle of nowhere. And yes indeed, Camas Meadows Bible Camp is surely an ideal setting in which to raise three boys. And again, my boys do have adventures that others can only dream of. Catching mice, building tree forts for their chickens, having mud fights at the frog pond … . When people speak longingly of moving to the mountains, I can't help but wonder how they would react to battling a horde of invading mice in their car or whether or not their kids would calmly don "mouse-catching socks" after being bitten.
So, what about you? If given the choice would you drive the five-mile journey to the bus stop every day and battle those car mice so that your kids could jump into the mountain creek? Or are you content with mud-free clothes, walks in the park, and your dog on a leash? This life isn't ideal for everyone, but of course you know what Scruffy and I chose in the end.