12-4-2018
Hmmm … I jumped onto the website intent on writing a lovely blog post about how busy my sons have been spouting out hilarious statements, teaching their mother to play Halo, shooting her with Nerf guns, and hiding behind trees with snowballs in wait while she/I walked innocently out to the car all ready for church (an event I had hoped to attend without snow in my hair or down my neck, unreasonable woman that I am). But look! I failed to document an historic event, a two day date, with that pesky man and love of my life. The very one who gifted our three sons with a deep and abiding love of annoying their mother.
Being in the summer camp ministry, getting away for a date in the summer isn't really an option. So when the first free time finally rolls around … in October, we are always so thrilled to get out on a date! This is the lovely parking lot near our hotel in Centralia, WA. That is a fine parking lot folks! And it only gets better, yay!
We stayed in the Olympic Club, a hotel which is virtually unchanged from its opulent remodel in 1913 when it was perhaps a bit rowdier than it is now. The stories from its historic (ie seedy, but very exciting) past are told in writing along the walls of the rooms, bathrooms, and hallways. No TVs in the rooms, but we had an original porcelain sink which was super cute as well as the story of Ernie, written on our wall. He was apparently a fast talker who managed to convince local authorities that there was nothing illegal whatsoever going on behind that massive mahogany bar which according to him did not see a drop of alcohol mar its glorious finish.
We watched a movie in the hotel's theater with our very own pizza, that we didn't have to share with any children, chickens, or dogs.
And even found a small series of hiking trails to get lost in. Of course, we had to hike to get to the hiking trails and took a moment to balance on the train tracks … right before I tripped and got a bunch of bruises, but that is another story.
It took a bit of wandering, but we did eventually find this lovely sanctuary.
Oh, look! I was there, too. It's hard not to just take pictures of the scenery, especially when what we were walking through was so very lovely.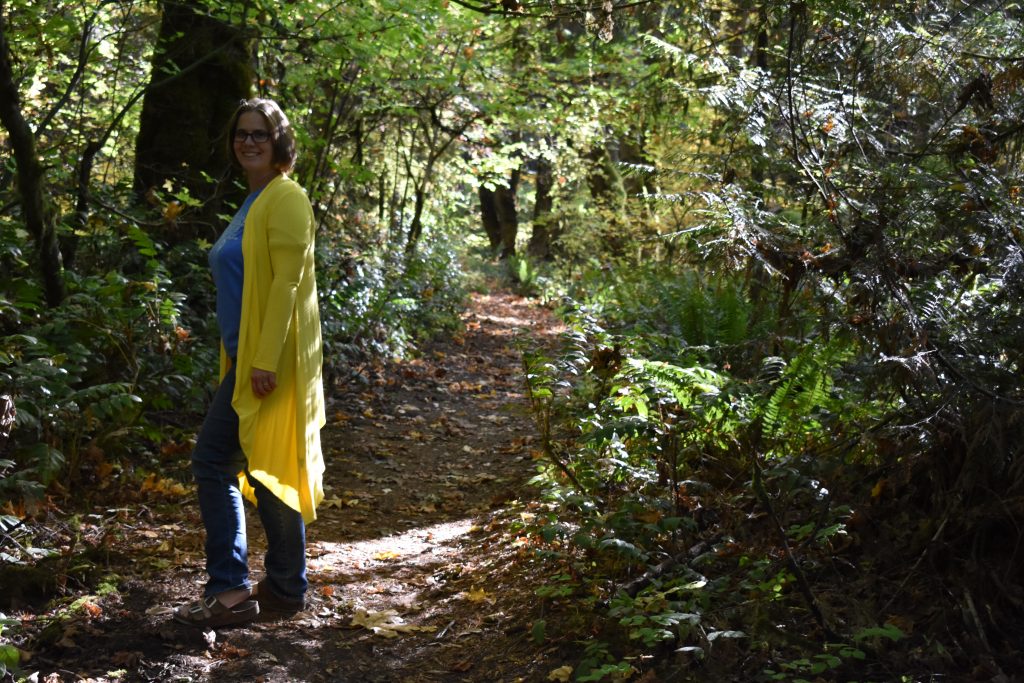 This type of country reminds me of the forest that I used to play in before our family moved to the Bible Camp. My dad was a pastor in Wishkah, WA until I turned eight and I spent many happy hours climbing "Dr. Seuss Trees" in the woods around our house.
Scruffy and I actually did not climb any trees, but we still had a lovely hike.
Our last night there we enjoyed dinner and a moment of quiet beside the outdoor fire pit. A beautiful ending to an amazing date with my guy, and yes, of course we ate chocolate. I'm sorry for not including a photo, but it was delicious. Oh, wait. I think I do have a picture.
Yum! Now, back to the real world for us! It is so strange that while we loved a peaceful moment together, we missed the boys and Leia terribly and were ready to rush back into all that craziness when the time came. Thank you Grandma Judy for taking care of our herd of boys, dog, and pet chickens while we were away!