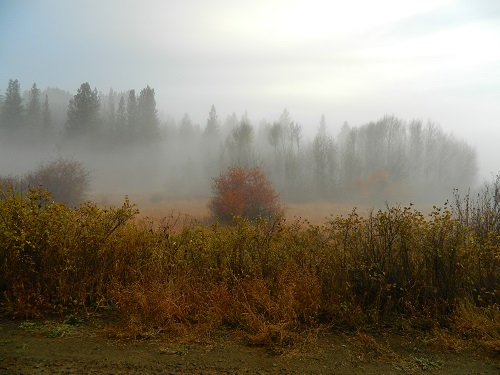 I don't suppose this picture has much to do with writing…unless you count that it is a bit spooky and the two stories I worked on this week have their spooky moments. One of them has pet wolves that escape and a creepy castle and the other has prehistoric creatures lurking in the forest. So yay! I can use this picture after all.
A lovely autumn day, laced with fog and mystery. Fitting inspiration for any writer.
Well, this week I had 10 days to go through my galleys word by word and line by line and send them back to my editor. It is nerve-racking, knowing that you are making the very last changes that you will ever get to make to a story you have written. I might of freaked out a little, but I managed to hold myself in check and did not change everything. Thankfully, the changes I did make will provide that final polish the story needed. Kudos to The Hunky Hubby who read through The Volk Advent and caught that place where I said "headless" instead of "heedless."
Then I got a request for sample pages from an editor I'd pitched to awhile back. I might just have possibly freaked out again and poured hours of my time over that 62 page submission making sure that I did not repeat my mistake and use "headless" again. But the pages got polished and improved and the submission got sent and I am taking a little breath of relief knowing that I have managed to improve two pieces of writing in just one week.
Yes, I want to go over the remaining 133 pages of the story I submitted. Yes, I need to finish the 11th revision of that YA novel I dragged out of the nether in my attempt to resurrect it, and yes I have a very rough draft of another romance that needs a good deal of attention to make it acceptable, but this week has been good. I'm going to stop for a moment, enjoy Sweet Boy#2's 10th birthday, and worry about the rest on Monday…or maybe Sunday morning…if I can get my children's church lesson done in time.