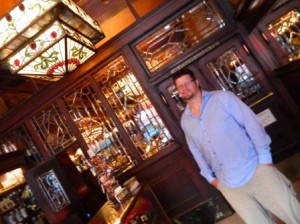 Last weekend we were able to finally celebrate our thirteenth anniversary. The Hunky Hubby and I drove to a friend's house on the other side of the mountains. We dropped off the boys for our very first over night date (yes I did cry when we left them, they barely noticed though they were having so much fun) and drove on through traffic and one lost windshield wiper until we got to The Olympic Club. Most everything in the restaurant and hotel is the same from its last major remodel in 1918.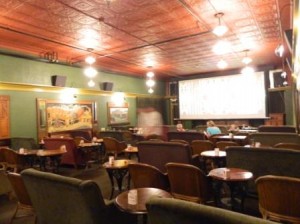 This is the old theater that is below the hotel. Basically the same as it was in the 1920's.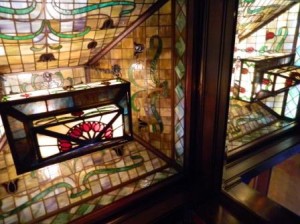 And here is the view from our booth at the restaurant. The colored glass is above you with mirrors right below the glass and leather seats and an old polished wood table. There was even a mother-of-pearl button in our booth. The waitress informed us that legend says it was for warning the patrons that the police were coming during prohibition or perhaps for ordering call girls… Thankfully no alarms or soiled doves appeared when we dared to poke the button.