The Harrowing/Heartwarming Parent Moment of the Week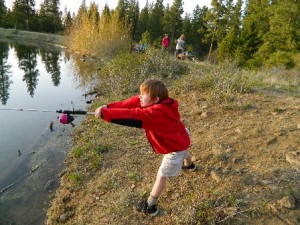 This week Sweet Boy#3 had his Daddy Day with The Hunky Hubby. He got to pick their activity and my seven-year-old red head wanted to test out his new fishing pole and go fishing. So the Hunky Hubby researched local fishing holes and off they went after church the Sunday before Mother's Day. It was quite an adventure. First, the new reel was completely tangled. It took them awhile to realize that it had come in the package threaded the wrong direction. After untangling the mess, Sweet Boy#3 was able to start learning to cast. He did this with great enthusiasm for a long, long time.
No fish.
He noticed that some people across the lake caught a fish and so he wanted to go "over there". The Hunky Hubby is a patient dad and so off they went, hiking "over there."
After fishing awhile with no success, Sweet Boy#3 wanted to try with a spinner. Carefully, The Hunky Hubby re-did his line with a spinner attached and our youngest began fishing once more.
On about the third cast, Sweet Boy#3 put his whole heart into it. He flung the line out in one of his best casts yet, but all that energy threw him off balance and he fell flat on his face and went skidding down a small embankment. Our little guy was so determined that he didn't stop to cry, he just kept watching that line as it zinged out into the lake, even as he was falling.
It was a nice cast and after The Hunky Hubby helped him get to his feet and brush off (he even had a small scrape on his forehead) Sweet Boy#3 started reeling in his line. A bite!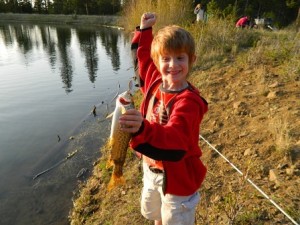 His efforts had been worth it. Sweet Boy#3 caught and landed a 13.5 inch tiger trout. It was a lovely fish and it was getting late and dark and cold. After a few more casts, The Hunky Hubby urged our intrepid fisherman to head on home.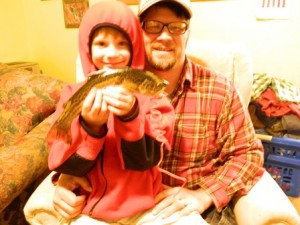 Although he wasn't cold. "I'm so proud of myself I don't feel the cold!" He assured his Dad. All in all, it was an amazing Daddy Day. Fraught with difficulty, but our guys pushed through and after hours and hours Sweet Boy#3 came home glowing.