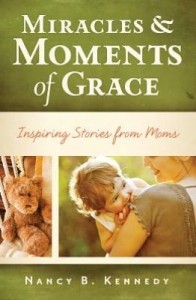 Finally, after twelve years of writing classes and rejection I have something to show for my literary efforts. Nope, I didn't get paid. And no the book isn't all mine. But someone has published my words… kind of (four editorial letters and many changes went into these four small pages of text) on pages 203-206 and I did get a fifteen dollar book for free.
And so can you!
Nancy B. Kennedy has two other books in this series, one with stories from Military Chaplains and one with stories from Doctors. This book has fifty stories from moms and mine is in chapter 42. Because I am a contributor…drum roll please…I get to give away a free book!
So, comment on this blog post by writing a mothering Haiku. I will put those who comment into a Seattle Seahawks hat and one of my fierce little boys (who are always impartial) will draw out the winning name. Then the publisher will mail you your very own fifteen dollar book. Ok, I want to see some brilliant Haikus. Remember, five syllables, seven syllables, five syllables. Like this:
Sugar Cereal
Star Blazers and Scooby Doo
I love Saturday
Or you could be fabulous, touching, and literary, either way. Good luck and have fun with your Haiku.
Oh, if you are not the winner, the book is on sale at Barnes and Noble right now for under $10.