The Harrowing/Heartwarming Parent Moment of the Week
What is a Momma Movie Night?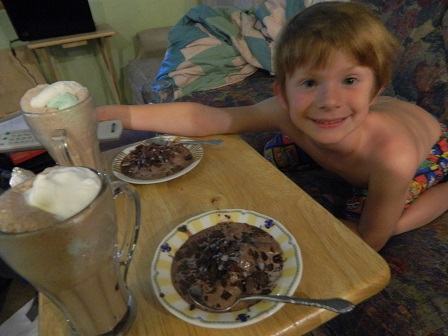 During the summer camp season, when The Hunky Hubby works seven days a week, I try to do some special things with the boys so that June, July, and August aren't primarily about busyness and work. One of these is Momma Movie Night.
First, I purchase a movie for each boy. Sweet Boy#1=Beethoven's Big Break. Sweet Boy#2=Goosebumps. Sweet Boy#3=E.T., but I keep the movie a secret.
Then, I ask the boys to pick out a treat and a drink. This year it was Mos Icely and Echo Base Lemonade from the Star Wars cookbook for Sweet Boy#1, Rolly Cake (ice cream cake rolled up and named after droidikas) and Cloud City Ice Cream floats for Sweet Boy#2, and Reeces Pieces and root beer for Sweet Boy#3 (he was the one who wanted to watch E.T.) And yes, this picture is from last year as I had a terrible time remembering my camera in the middle of the night for some reason.
Next, I choose one boy, get his snack and movie ready, and wake him up in the middle of the night. Perhaps I unexpectedly let him stay up late, wake him at 3:00am, or get him up at 5:00am when the sun is rising. But whatever the time, it is a surprise and it is not a normal movie watching hour. We snuggle up in a blanky, just us. Watch our movie and eat our snack.
So there you have it. Momma Movie Nights. An amazing adventure with your special kiddo and at once a year, it is worth the wave of terrible fatigue and grumpiness that follows. But despite that, my boys look forward to this every year. I think I'll even do this when they are old and come home from college to visit…what do you think? Will they still enjoy a midnight (or later) movie with Momma?