The Harrowing/Heartwarming Parent Moment of the Week
It's been twenty-two years since my dad died. Funny how these events never really leave you. This year, instead of remembering the day with sorrow, my sister-in-law decided that my brother and I should eat pie.
Our dad loved pie, pie for holidays, pie instead of cake on birthdays, and pie for breakfast. So she invited friends to bring a pie and come sledding.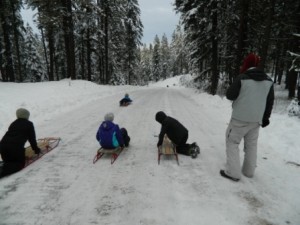 But for such a momentous occasion our normal sledding hill simply would not do. Instead of sledding in the driveway or hitting the tube hill, we stopped traffic and sledded the dreaded Freeze's Hill. The site of many a stuck vehicle over the years as it is the steepest place on our road. A good friend parked his truck at the bottom and alerted my brother via radio of any incoming traffic. Then we hit the hill with new Christmas runner sleds.
It was incredibly fast. There were several fabulous wrecks but no broken bones, even when the three dads had a "Big Guy Race" wherein they purloined their children's sleds and hurtled down the hill at incredible speeds and with very sketchy steering capabilities. Then we all packed into my brother and sister-in-law's house. The house my dad built for our family years ago. We ate pie and Korean salsa with chips and enjoyed the good times that are all mixed in with the bad.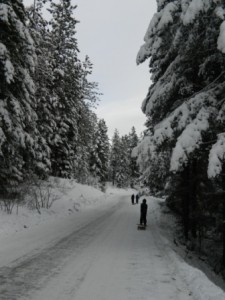 Of course I forgot my camera. But these pictures are from that same spot a few days later. Fun and beautiful!