The Harrowing/Heartwarming Parent Moment of the Week
Sweet Boy#2 had his ninth birthday last week!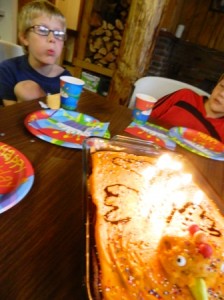 First we made party invites on the computer, but these had to be special, with a picture of "King" his pet chicken on the front. I had games planned and baked a cake, but the camp had gotten a bunch of new mattresses. The kids had more fun jumping on the new mattresses then they did with any of the other games I had planned. I didn't plan the mattress jumping, that just sort of happened. Then, after everyone left, the boys built a massive fort out of mattresses and had a second Nerf war (we had the first one at the party) with their cousins. The birthday boy had a wonderful day and went to bed tired but happy. Thank you Lord for new mattresses, and 9 wonderful years with our blonde boy.