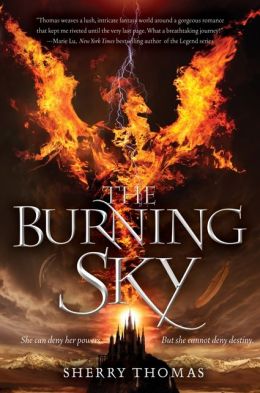 What did I learn from my reading this week…
Well, this week I read "The Burning Sky" by Sherry Thomas. I have always wanted to read something by Sherry Thomas ever since I read about her on Agent Kristin Nelson's blog. She posted her query letter and it was awesome. But Sherry Thomas writes very spicy secular romance and I had to send her book back to the library as it was…a bit too much.
But readers are in luck, because she has just written something for the YA market. Now this is secular YA so there is a lot of sexual tension and some inappropriate teen guy type humor, but no sex in this book. A few kisses and loads of awesome wizardly action and fighting and sweet romance. And could the cover get an awesomer? My boys all ran across the room to look at the cover when they saw it on my coffee table. They then informed me that I must read this one next. The one with the phoenix.
What did I learn? That even fabulous and experienced writers must learn and grow to switch markets. In her acknowledgements she thanks Agent Kristin for the 6 drafts of this book they went through together. Sherry Thomas is a veteran writer with about 10 published romances under her belt. But still she was willing to learn. Her work paid off. I loved this book. If you enjoy secular YA fantasy this is one to add to your list. And the boy humor…I have three sons. Are boys ever completely appropriate???
Photo from http://www.barnesandnoble.com/w/the-burning-sky-sherry-thomas/1114298576?ean=9780062207296